Men's basketball adds two new coaches this season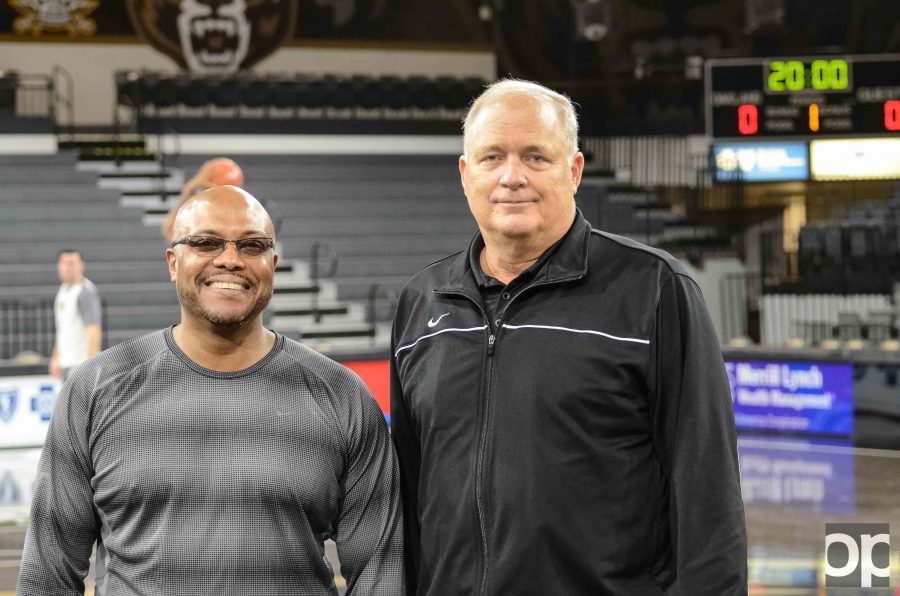 In early May 2016, the Oakland University men's basketball team had an opening for a new associate head coach. The former associate head coach, Saddi Washington, took a job at University of Michigan after 10 years at Oakland (2006-2016).
At such a crucial time in the recruiting process, Oakland hired Dan Hipsher, a long-time friend of Kampe's, as an emergency hire to fill the missing hole in the coaching staff.
After Hipsher was hired, Oakland had to make it official by going through University Human Resources' process, which included conducting an open search, since OU is a public university. Hipsher was ultimately agreed upon as the best candidate for the position, and he received a letter from human resources on Jan. 2 that made his hire official.
In addition to Hipsher, Cornell Mann joined the program this season as assistant coach after former coach Dionne Phelps left to be with his family in Arizona.
"I am really, really happy and excited," Head Coach Greg Kampe said during a Grizz Vision interview. "We took a big hit in losing Saddi Washington and Dionne [Phelps]. When you lose [the experience], and to be able to come up with what we came up with, I am just really, really excited."
Associate Head Coach Dan Hipsher
Hipsher played basketball for Bowling Green State University from 1973-1977. For three of those years, he played with Kampe.
"He knows me," Kampe said. "He knows how I do things. We have talked so many times for years and years and tweaking offenses and all that. It's seamless to transfer from [Washington] as associate head coach to [Hipsher]."
Hipsher started out as a pre-med student, but got the chance to coach basketball during a graduate assistantship in Miami, Ohio. He said that once he started coaching, he "loved it and never got out of it."
With 39 years of experience in his pocket, Hipsher has coached at colleges in the junior level, Division III and Division I. He was the head coach for Stenson University (1993-95), the University of Akron (1995-2004) and the University of Texas Rio Grande Valley (2013-16).
He also spent time as an assistant coach at the University of Alabama, the University of Dayton and the University of Arkansas.
During the four years he spent at Alabama, the team made two National Invitation Tournament appearances, finishing second in 2011. The Alabama Crimson Tide also made it to the NCAA tournament in 2012.
Hipsher has learned many things over the years about the players he coaches and what it means to be a coach.
"No matter what level you are at, the coach is the same," Hipsher said. "The levels kind of even out, and you do the same things recruiting. You do the same things developing players, practices and game prep. You learn that it's about the kids and giving them every chance they have to be successful."
Assistant Coach Cornell Mann
A native to the Metro Detroit area, Mann brings with him not only experience, but a notable reputation.
While attending high school at Ferndale High School, he was an All-State performer that earned  league MVP accolades and a nomination to the McDonald's High School All-American Team.
Mann comes from a family of athletes. Many of his uncles and one of his brothers coached while he was in high school. At that point, Mann and his cousin, Dwayne Stephens — former Oakland University assistant coach and current Michigan State University associate head coach — both knew that they wanted to go into coaching. After graduating from the University of Akron in 1995, Mann went right into coaching with Stephens.
"We grew up like brothers and always talked about it," Mann said. "We started working camps every summer, and that was our segway to get into coaching. Back then, that was what it was all about. If you wanted to be a coach, you worked a lot of camps and let people get to know you, you get to know them and so forth."
Mann has been coaching for 20 years, 15 of which have been at the Division I level. He has coached at the University of Dayton, Central Michigan University, Western Michigan University and, most notably, Iowa State University.
From 2011-2015, Mann stayed at ISU and helped its team achieve groundbreaking success. Mann was the lead defensive coach and helped get Iowa State to four consecutive NCAA tournaments and attain an overall record of 99-40.
He also coached Sherron Dorsey-Walker at ISU before he transferred to Oakland, as well as Oakland basketball alumnus Percy Gibson.
Kampe expressed his gratitude toward Mann joining the staff.
"He is a guy that could have been an associate head coach too," Kampe said. "He is at that high level. He's almost legendary in the Detroit area . . . everybody knows Cornell Mann. He's a very, very intelligent young man and knows the game extremely well."
The new coaches' experience, recruiting abilities, connections and overall knowledge of the game make them valuable to the Golden Grizzlies.
"The kids that come play at Oakland are going to be associated or surrounded by an unbelievable staff," Kampe said. "Add [Assistant Coach] Drew Valentine to that with what he has done and his enthusiasm . . . and obviously, when you get that type of experience, you have to pay. I have to be very thankful to Oakland University to increase the assistant pool here at Oakland, and they went out of their way to have a staff like this."