Stevie Clark gets back in the game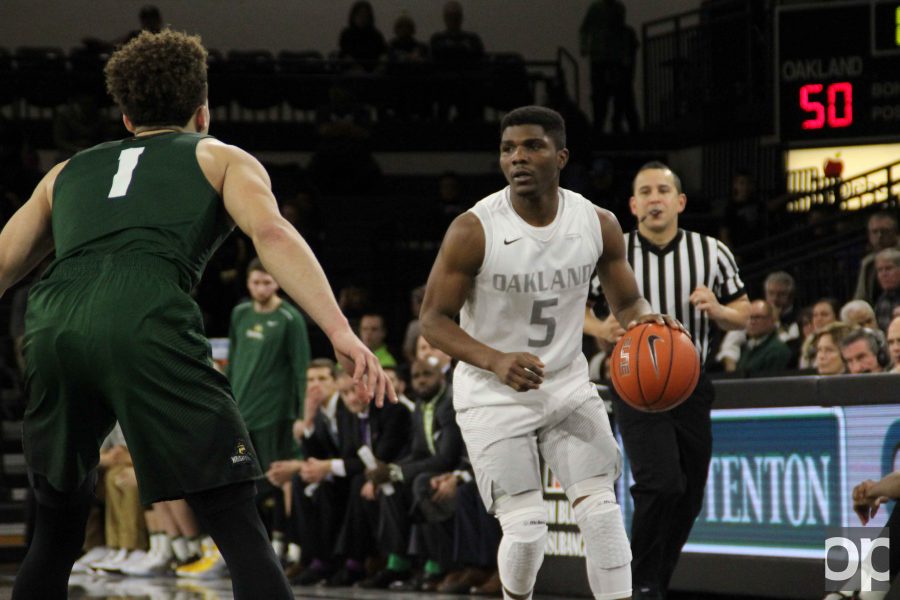 After star point guard Kay Felder was drafted to the Cleveland Cavaliers this past summer, the Oakland men's basketball team was in need of a new point guard. Head Coach Greg Kampe wanted someone who could start playing this season.
"We were stuck in a position where we had a really good team coming back, but no point guard," Kampe said. "The only point guard we had coming in was a freshman, Brailen Neely. So we decided that we wanted to find an older kid who could come in and play right away, so we looked at the junior colleges."
During Kampe's search, he came across Stevie Clark, who was attending Arkansas Baptist College, a junior college in Little Rock, Arkansas.
Clark is from Oklahoma City, Oklahoma, and started to get serious about basketball after he broke his arm playing football at age 15. While playing at Douglass High School, he helped win four state championships and was named Oklahoma Gatorade Player of the Year during his junior and senior years.
His mother, Dorshell Clark, was a single parent who was "pretty tough", Clark said.
He was recruited to play basketball for the Oklahoma State University Cowboys. As Clark gained more freedom, he started to focus more on the things that he wanted to do, rather than the things that he needed to do.
"Having the freedom to be able to party and make my own decisions . . . when I probably need to do this homework right now, or wait until later and procrastinate," Clark said. "I kind of made a bad habit with that, and then I just became a procrastinator."
School wasn't the only place he was getting into trouble.
Clark was arrested twice within the span of five weeks for possession of marijuana and outraging public decency. After the second incident, the Cowboys let him go in February 2014.
After two years of attending Indian Hills Community College in Iowa, Clark was asked to play for Arkansas Baptist College.
"It was a blessing. I got that phone call after two years," said Clark.  "They just offered me a scholarship . . . and I just took it and made the most of it."
Clark said that when he was attending Arkansas Baptist, he had to ride on small, cramped buses with 20 people for hours at a time with no leg room. It was different from what he had experienced at Oklahoma State.
"It was a life-changing experience, humbling experience in every way possible," he said. "I went from Division I, being given everything, to going to a junior college. Little Rock was pretty different, and I had to learn how to live on my own, become a man and make my own decisions."
After Kampe recruited him, Clark came to Oakland this past summer to start a new chapter in his life.
The adjustment included "getting him to transition from where he came from to coming here to learning our program to learning the school," said Nick Daniels, Clark's teammate and roommate.
"I've just been working with him throughout his career as he transitions himself," Daniels said.
At first, Clark did not really talk to anyone on the team. He mainly kept to himself and had a hard time getting used to Kampe and his coaching style.
"[There have been] bumps in the road," Clark said. "I'm not used to having males in my life, especially where they support me, so [I'm] letting my guard down. It's getting better and better. With downfalls, that's how you gain trust. I know [Kampe] loves me and wants the best for me."
Kampe has taught him some lessons that he can carry with him both on and off the court.
"In life, [he's been] letting me know that nobody is going to give me anything, and you don't want to put something in somebody's hands," Clark said. "You always want to control what you can control. With basketball, he's taught me a lot of different ways to defend, which has made me a better defender."
Both Kampe and Clark are still working toward understanding each other.
"I'm giving in, and he's giving in," Kampe said. "I'm trying to learn how to coach him so he can be the best player he can be, and he's trying to learn how to play in our system so he can be the best player he can be. So, it's a mutual respect for each other and learning how to work together."
Getting back into the swing of Division I basketball has been difficult for Clark. As the season progresses, he's recognizing that he needs to step up on the court after stepping back at Arkansas Baptist.
"At my junior college, I just relaxed and kind of just played within the system, so I'd go do what I had to whenever we needed to, but . . . I have to get out of that because the season's getting more deeper into the year," Clark said. "I have to start making more shots and being myself. I'm just learning to get back into that, but I have to spend a lot more time in the gym."
Though Clark is still finding his place, his teammates have already seen the talent and skills he brings to the team.
"He brings speed, he can penetrate." Daniels said. "I'm always shot-ready . . . when Stevie has the ball in his hands because he's a pass-first guy." 
Kampe agreed, saying he has been allowing Clark to take on a bigger role for the Golden Grizzlies.
"I wasn't starting him at the beginning, and he's a starter now," Kampe said. "He's stepped into a bigger role, and every time we play, he's in a little bit bigger of a role."
Since coming to Oakland, Clark has found his time here enjoyable and feels like he is where he needs to be at this point in his life.
"Being here at Oakland has been different and fun," Clark said. "Learning to get used to being [by] yourself because there's nothing to do around here. It's kind of dull, and I need that coming from my situation. I like it, hanging around my team and getting to chill. I just want to thank Oakland for this opportunity, and it's going to be a great year."