Men's basketball takes down Raiders in Horizon League opener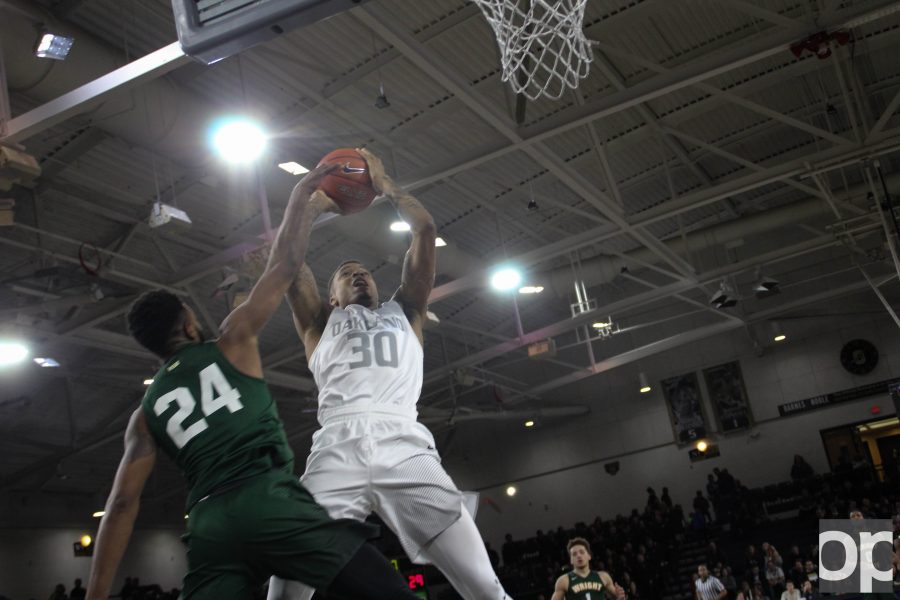 In its opening conference game, Oakland men's basketball took down the Wright State University Raiders 81-62 on Thursday, Dec. 29 in the O'rena.
"I would like to think that our defense had a lot to do with their shooting," said Oakland Head Coach Greg Kampe in the postgame press conference. "They came into the game shooting over 40 percent from the three. [Wright State] lives and die on the three. I felt all along that I was never comfortable with the lead because they're a team that can go four threes in a row."
The Golden Grizzlies had something to prove against the Raiders after Wright State defeated Oakland at home last year.
"I feel like today was all about making a statement," said guard Sherron Dorsey-Walker in the press conference. "I feel like everybody had that bad taste in their mouth from last year, what Wright State did to us. I feel like we were just motivated tonight and ready to make a statement."
Both teams came out with fierce offensive and defensive skills. Dorsey-Walker started the game with a 3-pointer, but Wright State responded with some offense of their own. Both teams went back and forth in the first half, causing eight lead changes.
At halftime, the score was 38-27 Black and Gold.
In the second half, the Golden Grizzlies were still going strong. Forward Jalen Hayes came back from halftime by scoring a lay-up.
Dorsey-Walker led the team with 25 points. He went 7-for-14 from the field, 5-for-10 from distance and 6-for-8 from the free-throw line.
Hayes scored 17 points and got 11 rebounds. He also had two turnovers and two steals. Martez Walker contributed 15 points and was 6-for-7 from the free-throw line.
"The first four minutes, we weren't playing any defense," Hayes said in the press conference. "We came into the media timeout, and coach challenged us to lock down on defense, and we accepted the challenge."
Offense was a common struggle for the Golden Grizzlies throughout non-conference play. Though Oakland had a much better offensive game against Wright State, Kampe still noted some frustrations.
"Every game is different. We just have to find ourselves," Kampe said. "I thought the last three to four minutes we weren't very good on offense. We took the shots we shouldn't have taken."
Mark Alstork led for Wright State with 21 points. He went 7-for-15 from the field and 4-for-4 from the free. He also had five rebounds. Steven Davis scored 13 points, with one assist and seven rebounds for the Raiders.
Oakland competed in a New Year's Eve double-header against Northern Kentucky at 3 p.m. ET on the Blacktop at the O'rena on Saturday, Dec. 31. Oakland won the game.