Women's basketball extinguishes the Flames in Horizon League opener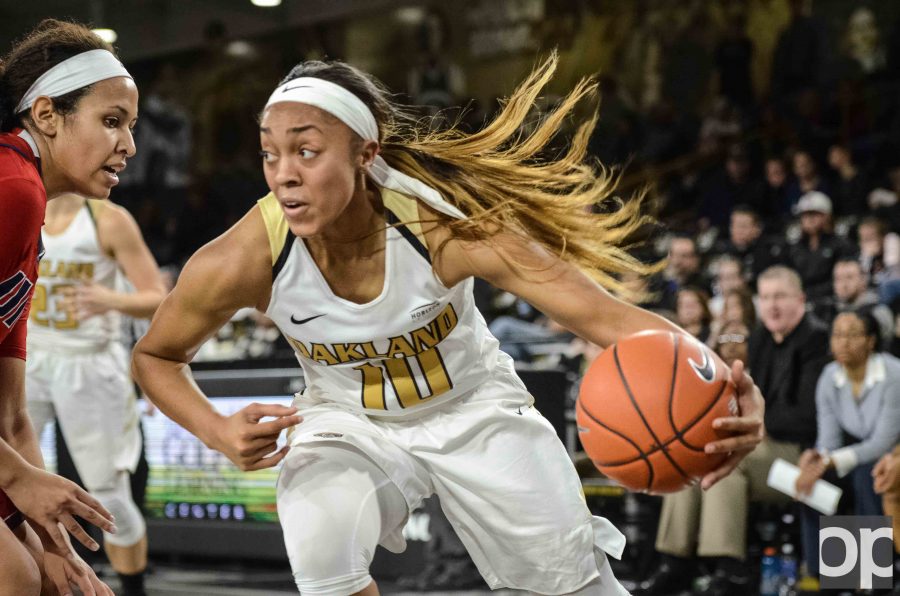 The Oakland women's basketball team (7-5, 1-0 HL) opened up Horizon League conference play with a win over the University of Illinois at Chicago (UIC) Flames (3-9, 0-1 HL) 81-58 on Wednesday, Dec. 29 on the Blacktop at the O'rena.
"Anytime you get a conference win, it is great, and to be able to win by 23 is a good win," said Jeff Tungate, Oakland women's basketball head coach.
Taylor Jones led the floor with 22 points and was 9-for-20 from the field with six turnovers. In addition, Sha'Keya Graves scored 12 points and got two career highs with eight assists and eight rebounds.
Hannah Little attained a team-high 12 rebounds, which marks the 10th game in which she has had 10 or more rebounds.
Adding to Oakland's victory, Nicole Dodd went 4-for-5 from the field and 4-for-5 from the three, matching a career-high 12 points. She made three 3-pointers coming off the bench in the second quarter.
The Golden Grizzlies started off the game with strong defense and offense in the first half and kept the lead during the entirety of the game. In the second half, Oakland's defense started to waver and UIC was able to score some easy baskets.
"In the second half, we did not guard the way we needed to," Tungate said. "If we want to compete at a high level in this league, we have to make sure we guard for 40 minutes, regardless of the score, and I thought we got comfortable trading baskets."
Despite the lack of defense in the second half, the team had 24 total assists, marking the second-most assists this season, behind the game against Marygrove.
"We had 24 assists, which means we really shared the ball, and I thought we did a really good job of that," Tungate said. "I thought we did a good job on transition and getting out and running on our break."
Despite Oakland taking the win against UIC, there were still many things Tungate feet the players needed to work on before their next game against Valparaiso.
"We have to make free throws," he said. "You cannot go 8-for-18 from the free-throw line and expect to win. Valpo runs some really good stuff. They are a team that takes a lot of time to prepare for."
For the Flames, Brittany Byrd led UIC with 15 points and had four turnovers. She went 6-for-15 from the field and 2-for-3 from the free-throw line. Melita Emanuel-Carr followed Byrd with 13 points, three assists and five steals.
Oakland beat Valparaiso on New Year's Eve showdown at 12 p.m. ET on Saturday, Dec. 31 at the Blacktop of the O'rena.