Women's basketball takes down NDSU 95-66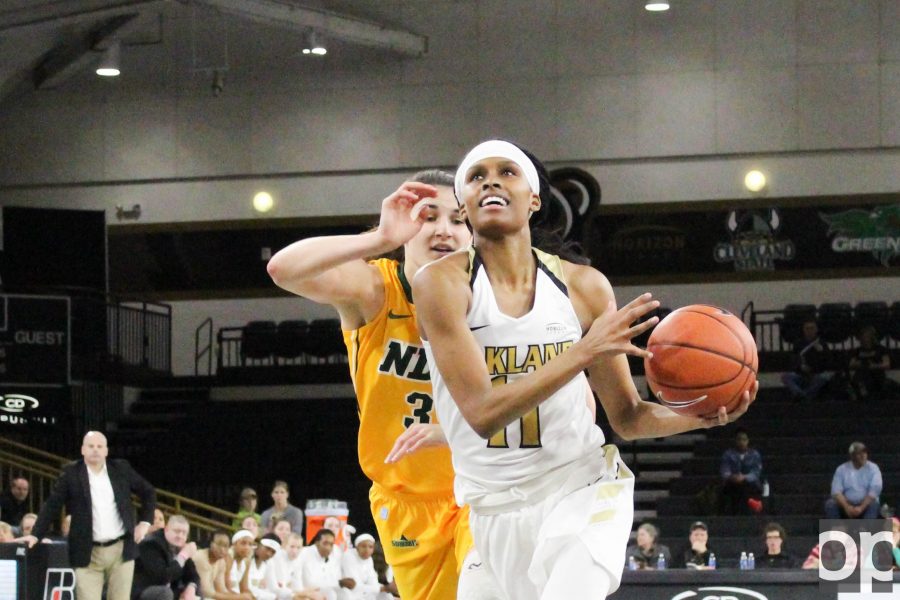 The Oakland women's basketball team (5-3) continued its three-game winning streak at home with a 29-point win against the North Dakota State University (NDSU) Bison (1-8) 95-66.
"I feel really good about our team and where we are at right now," said Jeff Tungate, Oakland women's basketball head coach. "They were playing really hard [and] obviously ran really good offense today."
Taylor Gleason led the team with a career highs of 22 points and 10 field goals. Additionally, she had three assists, two turnovers and three steals.
"[22] is my lucky number," Gleason said. "That's my jersey number, so I feel pretty good about that. My teammates being scoring threats opened up lanes for me."
Hannah Little added to the team's score with a whopping 18 points and 13 rebounds. She also had two assists, one turnover and three blocks.
Adding to Oakland's victory, Sha'Keya Graves went 7-for-12 from the field and 2-for-4 from the three, with 16 points and four assists.
The Golden Grizzlies started off the game with a full-court press that helped secure Oakland's lead in the first half.
"We knew they had played a couple days ago, so we wanted to make a fast-paced game for them," Tungate said. "We wanted to get them up and down. We wanted to press and kind of wear them out a little bit."
Once Oakland had acquired the lead, they let up on defense, allowing NDSU to come in and drain three 3-pointers. Gleason made a successful 3-pointer at the end of the first half that gave the Golden Grizzlies back the momentum, and they headed into halftime with a 45-29 lead.
The Golden Grizzlies stayed strong in the second half, playing some solid offense. Oakland is averaging 106.6 points per game.
Although the Golden Grizzlies feel they are at a good spot in the season right now, there are still some things the team needs to improve on if they want to do more on the court. There were a few turnovers that led to NDSU points, as well as the team's inability to get offensive rebounds on free throws.
"Our team is unselfish," Tungate said. "They have great attitudes. They play hard and they have great chemistry. So, we just have to keep working on the little details to get to where we want to go."
For NDSU, Taylor Thunstedt led the Bison with 16 points and had three turnovers. She went 5-for-10 from the field and beyond the arc. Sarah Jacobson accompanied Thunstedt with 13 points, five assists and five turnovers. She was the only player to play more than 30 minutes in the game.
Oakland will face Ball State at 3 p.m. ET on Saturday, Dec. 10 on the Blacktop at the O'rena.