Oakland 3, NKU 1: Volleyball hammers Norse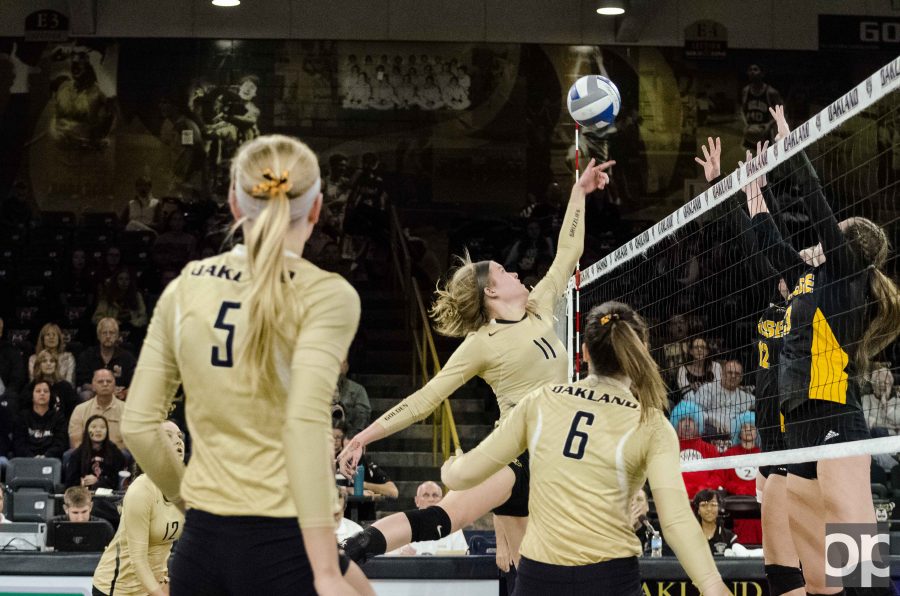 The Golden Grizzlies took down the Northern Kentucky Norse (13-9, 7-4) in four sets on Friday, Oct. 28.
"[The players] were outstanding," Oakland head coach Rob Beam said. "This was the best execution of a game plan that we've had all year, so I'm really proud of them."
During the match, right-side hitter Jessica Dood recorded a season high of 12 kills with a hitting percentage of .300, making the match the third-consecutive match where she has recorded 11 or more kills.
"I had a good feeling about tonight, that we were going to come out [with high energy]," Dood said.
In the first set of the game, both teams came out with strong defense and offense. Middle hitter Sammy Condon scored the first three points for Oakland, making two kills and a service ace. The Golden Grizzlies kept the attacks coming, finding holes in Norse's defense. The score was 7-3 Oakland. Timeout Northern Kentucky.
Coming back from the timeout, NKU stepped up their offensive game, scoring a couple of points on the Golden Grizzlies. Oakland responded with the same offensive intensity and managed to keep their lead against NKU.
Toward the end of the first set, though, the Norse sent kill after kill over the net. NKU shortened Oakland's lead. The score was 21-19 Golden Grizzlies when Beam called his second timeout of the game.
Back from the timeout, Oakland came back strong and scored a barrage of points against Northern Kentucky. Outside hitter Darien Bandel and middle hitter Krysteena Davis got the set point for Oakland by blocking an attack from NKU's Haley Libs. The Golden Grizzlies won the first set 25-21.
The Golden Grizzlies got a lead against the Norse with strong offense and defense in the middle of the second set, but in the second half of the set, the Norse took control of the court and scored point after point. NKU took the lead and Oakland was unable to take it back. The Norse won the second set 25-23 after trailing 23-17.
During the third set of the match, the Golden Grizzlies dominated the court. Deatsch and  Condon found NKU's attack pattern and continuously blocked their opponents. The pair earned four points for Oakland during the set. Davis and Dood also got some kills in during the set. Once the Golden Grizzlies had the lead, the Norse could not recover. Oakland defeated NKU in the set 25-12.
The fourth set was much like the first set, and the Golden Grizzlies won 25-20.
"We were definitely fired up, and we knew that they had taken one from us last time," Condon said. "We came into the gym not wanting that to happen again and ready to play against them."