Volleyball falls to Valpo in three close sets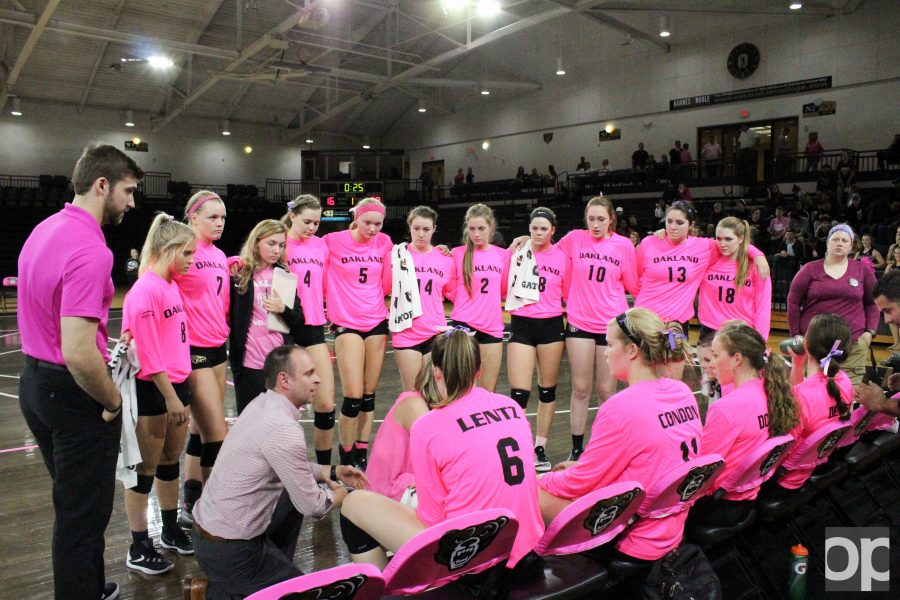 Oakland women's volleyball lost 3-0 to Valpo on Wednesday, Oct. 12, in the O'rena.
Due to injuries, the Crusaders pulled something completely new on the Golden Grizzlies that the team was not ready for: They played without a setter.
"The way the match played itself out . . . was not part of anything you could have prepared for," said Oakland head coach Rob Beam. "It's not something that's on film and it's not in any box score."
For Oakland, Alli Gutschow got 14 digs and four assists while Darien Bandel got 11 kills and one dig. Melissa Deatsch recorded 14 kills and 16 digs.
The first set was evenly matched with each team having their equal shares of lulls. The teams traded points back and forth until the game was tied 3-3. From there, Valpo scored four successive points, taking the lead 7-3.
Oakland responded with a bit of offense. Despite the Golden Grizzly efforts, they were unable to catch up to the Crusaders, causing Oakland to call a timeout with the score at 18-14.
Oakland managed to close the lead to 22-20, but the rest of the match continued with each team scoring multiple points back-to-back until the set was over and Valpo won 25-22.
The Golden Grizzlies came back in the second set and took the lead from the Crusaders at 7-6. Jordan Lentz and Krysteena Davis teamed up and helped to widen the point gap 10-7.
The lead Oakland had over Valpo stayed strong until the score tied at 23-23. The teams continued tying until it was 26-26, and the Crusaders scored two more points, winning the match at 28-26.
The beginning of the third set was tight. When the score was 14-13 Valpo, Oakland experienced a lull and the Crusaders took their lead to 17-13. Timeout Oakland.
Coming out of the timeout, Oakland scored one point, but Valpo scored a barrage of five points against the Golden Grizzlies.
After some adjusting, the Golden Grizzlies played some intense offense and closed the lead Valpo had to 24-23. At the end of the set, Valpo's Emily Campbell got a kill, bringing the score to 25-23. Valpo won the set and won the match 3-0.
"Our ability to adapt to what was happening happened in spurts, but not over the duration of the match and not soon enough in sets," Beam said.
But they're not going to get lost in the disappointment, he said.
"I think the biggest thing is just the learning opportunity for all of us on things we can improve, how [we] get better and how [we] take a loss," Beam said. "I'm going to choose to view it as an opportunity to improve and shape our practices, and include more things that can help prepare us for [Valpo's] type of situation."