Deatsch passes 1,000 kills
Deatsch's key role on the team has been cemented.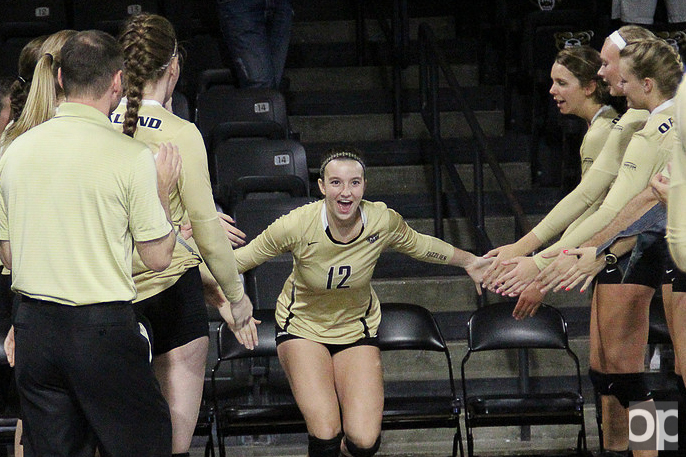 In the Sept. 16 match against Buffalo, senior outside hitter Melissa Deatsch – who also works for the Post – became the sixth volleyball player in Oakland University history to get 1,000 career kills. She made 10 kills in the game bringing her to 1,007.
Deatsch is from Elmhurst, Illinois and has been playing volleyball since she was nine years old. Her older sister played Division I volleyball for four years.
"I watched her go through that experience and knew it was what I wanted for myself," Deatsch said.
Oakland volleyball head coach Rob Beam started to recruit her for the Golden Grizzlies when she was 16.
"Everybody around her, from her high school coach to her club coach, viewed her a leader and someone that would make a difference in our program," Beam said. "They really helped me understand her personality and what she was going to bring to the program, not just as a volleyball player, but what she was going to bring on top of that."
In her freshman year, Deatsch started off as a backcourt defensive player. Halfway through the season, she got the chance to become an outside hitter and has not given that position back since.
"She's been a huge part of [our] success over the last four years and has been a key member of the team," Beam said. "She's basically been the rock or the steady point for our program the last two years. Being an outside hitter, she's always on the floor, she doesn't come out, she's constantly making us better and helping our team compete."
Not only does Beam see her value as a player, but her teammates do as well. Redshirt junior middle hitter Sammy Condon has played with Deatsch for three years, and says her competitive spirit never fails to encourage the team.
"She's always competing with herself to get better and competing with her teammates to make her teammates better," Condon said. "It's a super-fun personality to play with on the court because you can always look to her and she'll give you that competitive drive, and it really translates to the team."
On the court, Deatsch is a strong offensive and defensive player with strong serving and spiking skills, but she is also the team hype woman.
"I get made fun of a lot by my teammates about how hyped I get, but I think that it is a good thing," Deatsch said. "I think that they appreciate it because . . . seeing my intensity, seeing how hard I'm working, how much I care and how much I want to win, I think it transfers to the entire team, and I think it raises our level of play."
During the off season, Deatsch works in the weight room with Terry Sauerbry, director of strength and conditioning.
"Being able to work with [Sauerbry] all summer long and work one-on-one with him in the weight room, I've been able to elevate my game where I never would have been able to go before," Deatsch said.
As a student-athlete, Deatsch has a lot on her plate. She goes to school full-time, travels for volleyball and holds two jobs, writing the weekly Political Focus column at The Oakland Post and working in the communications department at Brose North America.
"Balancing the life of a student-athlete is always a struggle in itself, but it's a struggle that I absolutely love," Deatsch said. "I love being busy and I love being committed to improvement in all areas, so I think that it's a lifestyle that I was made for."
She has accomplished many things in her college career. During conference play in 2015, she was top-10 in Horizon League players in kills and points, and led in aces. She was also put on the All-Horizon League team for the first time that year. To Deatsch, getting 1,007 career kills is significant.
"Anytime you reach a milestone like that, it's cool to look back on your career," Deatsch said. "It means I've done my job and that I'm continuing to do my job everyday, and that's really what's important because every kill is a point, and every point takes us to a championship."
This is Deatsch's last year playing volleyball with Oakland, and it is hard for her to imagine that her volleyball career is almost over.
"I only have a couple months left before I have to figure out what to do next, and that's been weird," Deatsch said. "I've watched the seniors before me go through senior night, and it's put me in a panic because this has been my life for so long that it's crazy to think that at one point it's going to be gone."
However, Deatsch is still prepared for life after graduation.
"I've learned so much more about myself beyond volleyball, and I've become more prepared in all aspects of my life, and so I'm surprisingly not as freaked out as I thought I would be about saying goodbye to the game," Deatsch said. "It's still going to be weird, and it's still going to be sad when it happens, without any doubt, but I think that I'm prepared and excited for my career."
Deatsch is majoring in journalism and leaning toward a career in public relations after an internship she did over the summer. She is expected to graduate in April 2017.