Women's golf finishes second, Kylee Sullivan first, at Golden Grizzlies Invite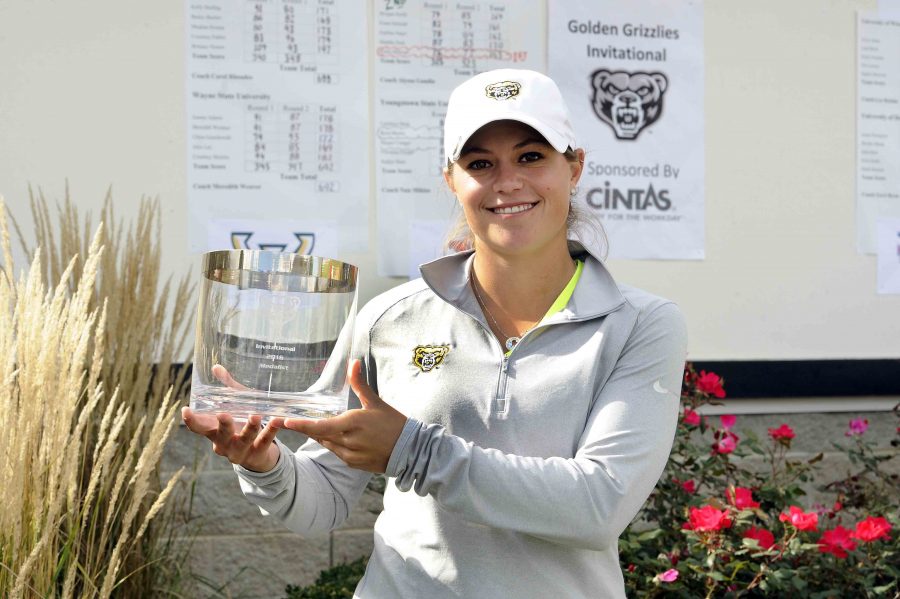 Oakland women's golf (638, +62) finished runner-up to Cleveland State University (637, +61) by one point at the Golden Grizzlies Invitational which ran from Sept. 26-27 at the Katke-Cousins Golf Course.
Even though the team finished in second place, sophomore Kylee Sullivan won her first individual tournament title, finishing with three birdies and a personal record low of 153 (+9) points.
"It's a lot to take in. I don't really think it's quite sunk in yet," Sullivan said. "I'm beyond happy and I'm proud of my team for the way we played this weekend. I can't wait for the rest of the season."
Sullivan has been playing golf for 12 years and has had her ups and downs, but believes that staying mentally tough has helped her focus on golf.
"I haven't been put in a position to win for a little while now, so from [the last tournament] it was just trying to stay in the moment and stay with every shot."
Oakland finished the first round in first place with a score of 315.
"We started out rough yesterday and finished really, really strong on the last four holes," said Oakland head coach Alyssa Gaudio . "We have two more tournaments and a lot of the fields are relatively the same strength-wise, so [we're] trying to win one of the next two coming up and if we don't win, take runner-up."
Round two of the invitational was a challenge for the Golden Grizzlies due to the strong wind during the event. Junior Fiona Schmidt felt the challenge and loss to CSU just as strongly as Gaudio.
"We lost by one shot, which was really sad, but I felt that yesterday we stayed strong on the last holes," Schmidt said. "We fought and tried to finish strong, and it was tough out there [today] because it was really windy conditions."
The women's golf team will be at the Roseann Schwartz Invitational in Youngstown, Ohio, on Oct. 10-11.