Number of students enrolled drops for first time in 17 years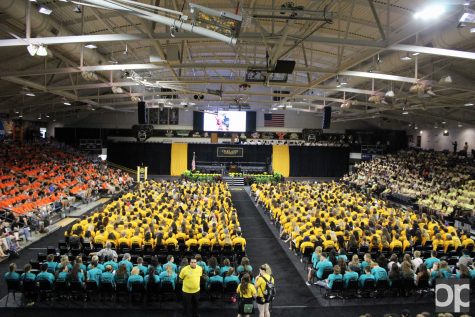 The number of students enrolled at Oakland University has declined for the first time in 17 years, according to Paul Schroeder, associate vice president for enrollment management.
Last year's student population was 20,261. This year's is 20,012. The number of students fell by 249, or about 1 percent.
"That's not surprising," Schroeder said.
The number of high school seniors in Michigan has declined since 2006, leaving universities with a smaller pool to draw from. The pool is also smaller for community colleges, so there are less potential transfer students for Oakland. Oakland competes with other universities for high school and transfer students.
"We are in the mix with all the other [public universities]," Schroeder said.
A decrease in the number of students enrolled does not necessarily mean bad news.
An increase in graduation rate can decrease the next year's enrollment because the graduating students are no longer taking classes. The most recent graduating class was large, according to Rueben Ternes, assistant director of institutional research and assessment. State appropriation is based in part on graduation rate.
As an added bonus, there are 249 less students to take up parking spaces, 249 less students sitting at desks in class and 249 less students in line at the food court.
In this year's case, less students doesn't mean less revenue from tuition dollars because more students are full-time.
Enrollment is not only measured by how many students are taking classes, said Rueben Ternes, assistant director of institutional research and assessment. The university also looks at how many credits students are taking. This year, students are taking 249,854 credits, which is 529 more than last year.
The state has its own way to measure enrollment, using a unit called a Fiscal-Year Equivalent Student (FYES). The number of credits that a student takes per year is divided by a set number of credits.
For example, an undergraduate student who takes 30 credits in one year is considered one FYES. An undergraduate who takes 15 credits in one year is considered one-half FYES.
Masters students must take 24 credits in one year to be counted as one FYES, while Ph.D. students must take 16 per year.
Medical students count as one-half FYES for each semester they're enrolled, despite they number of credits they're taking.
Oakland University has 7,044 FYES for undergraduate students and 1,116 FYES for graduate students for this year for a total of 8,159 FYES. This is up six from last year.
FYES does not count out-of-state students who only take Oakland classes online, but this is a tiny portion of Oakland's student population.
The number of credits and the FYES values have increased for Oakland for 22 years, Schroeder said. This year is no different.
Despite less students, the residence halls were overflowing at the beginning of the year. The new housing complex will prevent this in the future.
Oakland will try to grow the headcount again by increasing out-of-state recruitment and building stronger relationships with community colleges to recruit transfer students, Schroeder said.
If everything works out as Oakland plans, the number of students will increase.
Enjoy the extra parking while it lasts.