Ninth-annual HAP Brooksie Way brings thousands to Oakland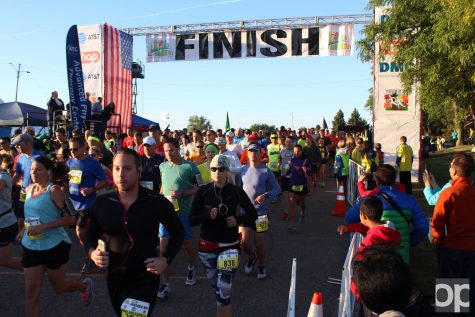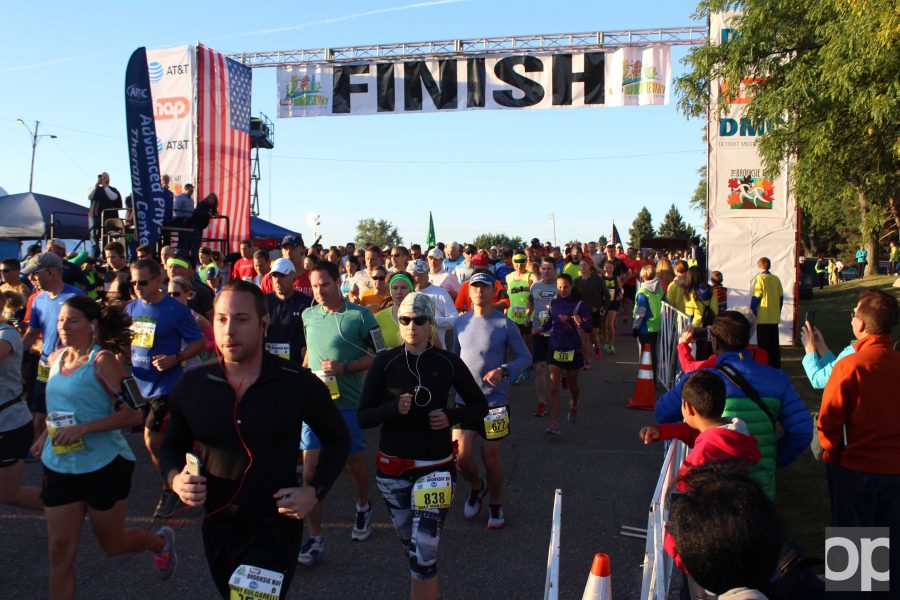 Cool, crisp air welcomed 4,583 runners and walkers as they laced up for the ninth-annual HAP Brooksie Way Half Marathon, 10K, 5K and Fun Run. Participants congregated at Oakland University's Meadow Brook Amphitheatre Sunday morning.
The race commemorated the late son of Oakland County Executive L. Brooks Patterson. Brooks "Brooksie" Stuart Patterson was 28 when he died in a snowmobile accident in 2007.
OU is a sponsor of The HAP Brooksie Way.
For some, the event was more of a community gathering than a race. Food trucks, cool down stations and live music from Robyn Marriott and the McIntyre Trio, among others, greeted spectators and participants near the starting line.
Prior to running, competitors warmed up with stretches, high kicks and light jogs. Among them were many Oakland alumni.
Ryan Beck, a 2015 Oakland graduate and returning Brooksie Way competitor, was focused and in the zone.
"This is my fourth year running in the Brooksie Way Half Marathon," Beck said. "I started running around 12 years old when I signed up for what I thought was cross country skiing, but [which] ironically enough was running."
To condition for the race, Beck followed a basic program.
"I prepared for this half marathon with daily light running and weightlifting," he said. "Also, I avoided pop. I encourage anyone interested in participating to have fun, and definitely consider training two to three weeks prior, or it's going to be rough."
After the singing of the national anthem, the first wave of runners hit the course at 8:05 a.m. With the half marathon well underway, the next wave of 10K and 5K runners positioned themselves in the appropriate order.
Decked out in Golden Grizzly attire, 2004 alumnus Charles Krohn and his wife, 2006 alumna Bronwyn Krohn, were not strangers to the venue.
"This is our third Brooksie,"Charles Krohn said. "I think it's fun to get out, get some exercise and be competitive, especially on such a beautiful route and campus."
His wife echoed his comments.
"We are die-hard Oakland fans," Bronwyn Krohn said. "In fact, Charles and I were engaged at Meadow Brook Hall. There's nothing like the peacefulness of the rolling scenery. You can't beat it."
After all the participants had embarked on their races, volunteers and organizers continued their work. Medical personnel patrolled all routes on golf carts ready to transport participants to a fully-staffed medical tent at the start line. Law enforcement also restricted traffic flow and escorted participants.
Start-line captain John Tarantino assisted in coordination efforts and reiterated the need for safety.
"We usually don't see too many injuries, but the biggest threat is dehydration," he said. "Even with the multiple hydration stations placed on the route, a few people suffer from that."
Tarantino also explained the true scale of the event.
"We have a lot of people, probably over 80 on the start line alone," Tarantino said. "It is a big event and takes a lot of people to move properly."
Keeping with the values of the race, Tarantino emphasized the importance of volunteer work and donation.
"All runners should volunteer at least once a year for a race just to get a real appreciation for all the organizing that goes into it," he said. "Registering is very easy, especially because there are so many positions to fill. Anyone interested should check out the race's website thebrooksieway.com."   
Since its implementation, the HAP Brooksie Way has distributed nearly $150,000 in Brooksie Way MiniGrants that benefit local communities through the support of health and fitness programs.
Luke Humphrey won the half marathon in 1:09:01. John Worthington II won the 10K in 34:38. Donald Richmond won the 5K in 16:41. Steven Hansen won the half marathon walk in 2:09:03.
Leave a Comment