Oakland 2 Cleveland State 3: Women's soccer drops close one at home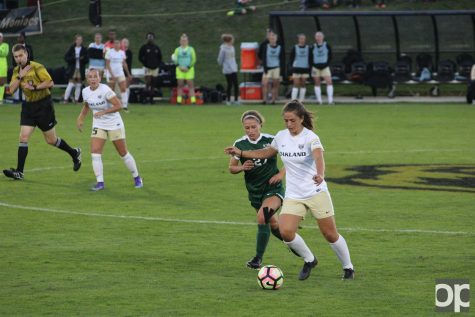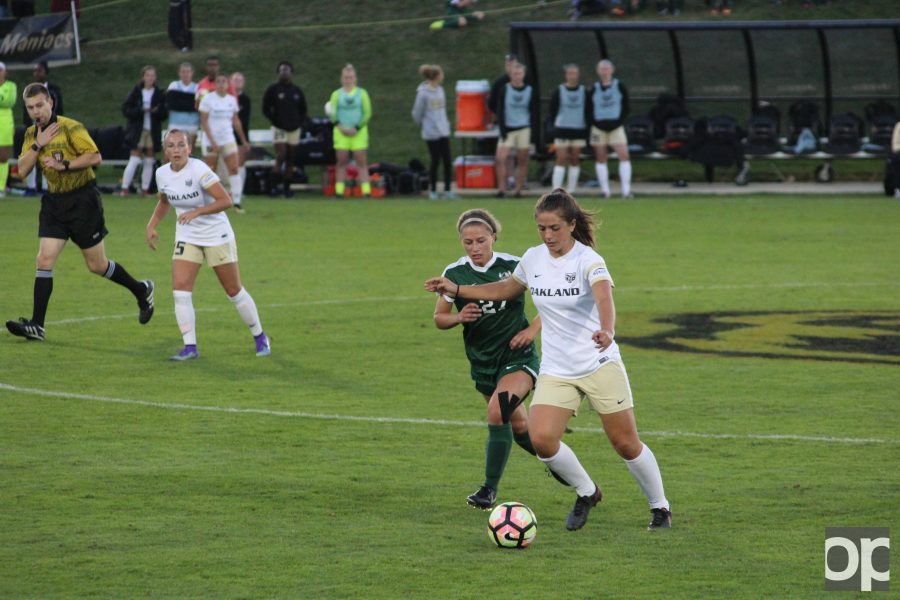 After two ferocious goals by Alice Palmer and Sydnye Gagner, Oakland women's soccer (4-6-1, 1-1-0) lost a close homecoming match 3-2 to Cleveland State on Saturday night, Sept. 24.
The Vikings attacked early. Toni Dickson got off a shot in the sixth minute, but Oakland's goalkeeper Alison Holland made the save.
Oakland struck first in the eighth minute. The Golden Grizzlies took a pending attack back a bit and then made a quick advance. Palmer shot it from 16 yards out and nailed it, her second goal of the season. Lauren Bos got the assist.
"I took a touch past the defense," Palmer said. "Nice to get an early goal in for a change."
She almost got another one on target in the 15th minute. Oakland defender Sierra Grodsinsky put a free kick to her right side, and a subsequent pass went uptown, meeting Palmer, who almost got a good touch in prime position.
Cleveland got back in the 26th minute when the Vikings' Bianca Sarti put up a corner kick. Oakland's Holland got a hand on it and punched it out of the scrum 10 yards, but Sarti shot it right back in from 15 yards out. It was her first goal of the season. 1-1.
Oakland countered in the 39th minute. The Golden Grizzlies' Cecilie Dokka made a perfect cross from the right corner to Gagner, who put it in first touch from four yards out. Gagner raised a fist and bowed her head. No big deal.
"I screwed up on the first couple [of chances], but I had to make myself up," Gagner said. "Redeemed myself."
Palmer and Dokka got the assist for Gagner's seventh goal of the season. 2-1 Oakland.
After the half, Cleveland evened the board in the 54th minute in a manner similar to the Vikings' earlier goal. A corner by Kaila Sargema was initially cleared by Oakland, but the ball somehow found its way back into the mix. Sargema, after catching Holland a bit front right of the goal,  scored from four yards out on an assist from Dani Sowinski, her fourth goal of the season. 2-2.
The game went into overtime. Oakland's Taylor Thalheimer got a shot off in the 92nd minute, but Cleveland's goalkeeper, Jamie Daniels, saved it.
Finally, in 93rd minute, Cleveland's Ashley Thiss scored her first goal of the season on a 17-yard lob that went right through Holland in the upper net.
"Not tight enough out on the wing, off of the throw-in," Oakland head coach Mags Saurin said. "And then just a really sloppy shot that we let in."
It was the golden goal. 3-2 Cleveland in the end.
"I think we're doing pretty well," Holland said. "We just need to clean up some stupid goals and keep moving forward."
For the Golden Grizzlies, Aly Rawson, Thalheimer, Palmer, Gagner and Ali Amante each got a shot on goal. Oakland also got called for four offsides, all in the first half, a byproduct of its aggressive attack.
"I think there was a bit of panic involved tonight," Palmer, a forward, said. "But at times when we did get it out and find a midfielder or we found a forward, I think it went really well."
Saurin is looking at it positively.
"We dominated possession, we dominated creating chances, shots, shots on goal," she said. "Should have really put this away, I feel, in the 90 minutes, rather than going into overtime."
Oakland put up 18 shots to Cleveland's nine and five shots on goal to Cleveland's four.
"We're going to have to say yeah, we were the better team, but we didn't win," Saurin said. "It's a young team, and we're learning a lot this season. It's not like we're playing bad soccer. We're playing some really incredible soccer. It's that composure and clinical finishing that we need in the final third."
The opportunities were there.
"Just couldn't finish on some of them, myself included," Gagner said. "We're going to make up for that on Wednesday."
The Golden Grizzlies play at Northern Kentucky at 7:30 p.m. ET on Wednesday, Sept. 28. You can watch on ESPN3.