Oakland 1 Dayton 0: Men's soccer grabs Homecoming win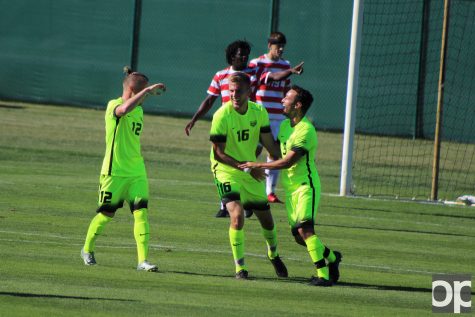 And so there was revenge on the Golden Grizzlies' field. Oakland men's soccer scored a 1-0 win against the University of Dayton in front of the homecoming crowd on Saturday, Sept. 24.
The Flyers knocked Oakland out of the first round of the NCAA tournament last year on penalty kicks.
This year, Chase Jabbori scored the sole goal in the 21st minute. Defender Wilfred Williams made a cross from the deep left side. It climbed over Jabbori's head and found its way to Alex Serwatka. After a quick visit with Serwatka, Jabbori put it in. Serwatka and Williams both got the assist.
Oakland head coach Eric Pogue had alluded to Williams' latent offensive abilities earlier in September. They became evident with that cross.
"The coaches are always encouraging me to get up the field," Williams said. "I had my opportunity to take a player on one v. one and whip a ball in."
"I was just thinking just be at the back post," Serwatka said. "Maybe there'll be a flick-on, maybe there'll be a rebound. Lucky enough it came right to me, and I just put it on target. Chase was there at the right time."
"It was a great cross, but it was a little over," Jabbori said. "So I just tucked into the middle of the six and Alex hit a shot on goal. I kind of just got in the way, deflected it, and it went in."
An acceptable result.
"Great feeling," Serwatka said. "Better feeling that we beat Dayton."
Zach Walker manned the net the whole game, making one save and producing his first career shutout.
Jabbori had both of Oakland's shots on goal. Williams, Serwatka, Alec Greene and AJ Shaw each put up a shot.
Dayton's Rok Taneski had the only shot on goal for the Flyers.
Serwatka and Travis Harrington of Oakland were given yellow cards.
Dayton played one player short from the 69th minute-on after Michael Frasca was dealt a red card. With 10 men, the Flyers were more easily handled, but up until that point, they had controlled the ball quite a bit in the second half.
"We were going to give them a bit of possession as long as their possession wasn't amounting to shots on goal," Pogue said.
The Flyers play spread-out, Pogue said, so you best not defend aggressively, or they'll filter you like they were swiss cheese and make their way on.
"We just wanted to keep them in front of us," he said. "If they were going to serve balls, we got some pretty big boys there in the back that can get it, pick up second balls and then catch them on the counter. We were unlucky not to get a couple more chances. Even though we might not have had as much possession, I think we had by far the better of the opportunities."
A keystone of the defensive efforts was midfielder Dean Akeel.
"He really just sits in front of that back line and screens balls into the other guy, picks up second balls, and really just gets the attack started for us, with some good distribution," Pogue said.
But it hasn't always been like this, nor has Akeel always gotten this much playing time. But he has grown into the role.
"We're having a hard time taking him off the field right now," Pogue said.
The Golden Grizzlies get a full week off before going to Indiana to play Valparaiso at 8 p.m. ET on Saturday, Oct. 1.
"The whole league is tough," Pogue said. "There are no easy games in the Horizon League."