Men's soccer strings third league win in tough one at Detroit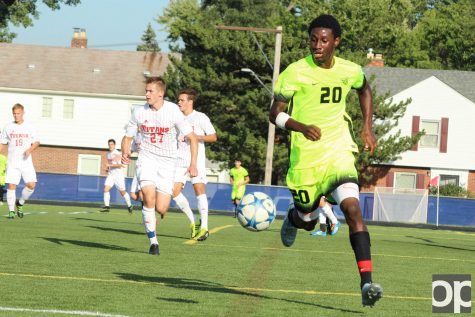 The game at Detroit on Wednesday, Sept. 21, was the definition of "grinding it out." Players were dropping like flies. At mid-70s, sunny, barely any wind, the cramps attacked. The clock was stopped four times for injury or stretching. Oakland men's soccer won 2-1.
Detroit attacked quickly, scoring in the sixth minute. Detroit's Tommy Bowman shot from 20 yards out at the top of the box. The grounder went toward the back post, catching Oakland goalkeeper Liam McQueenie on the right side.
The Titan pressure kept up for 10 more minutes, but a change came around the 17th minute, and Oakland controlled the game for a bit.
Halftime came and went, and in the 53rd minute, Oakland forward Nebosja Popovic took a shot from 20 yards out and put it in clean. He flew like an airplane toward the cheering stands (the Golden Grizzlies had traveled well).
It happened fast but wasn't so simple. Austin Ricci's name might not have been at the top of anyone's mind after that play. It should have been, according to Popovic. Ricci basically set a pick.
"I turned, but he created the space," Popovic said. "To me, that's just like an assist."
Their synergy is important, a true win-win.
"The more assists I can get him, the more assists he can get me, the better we'll be up top," Popovic said. "I think every game is getting better and better."
In the first half, Ricci was playing forward of Popovic, both being defended man-to-man.
"They're going to be a handful for a lot of teams," Oakland head coach Eric Pogue said. "It's a credit to them."
Oakland had switched Popovic and Ricci's roles at halftime. On the play, Nash got a good touch on the pass and made a move inside.
"Ricci made a nice run near post, which really opened the space on the back post, froze the goalkeeper," Pogue said. "Nash did a nice job with his left foot, just burying it."
The kicker (or rather, header), came in the 80th minute. Detroit's Garret Weaver messed up a pass back to goalkeeper Robbie Beckwell and gave Oakland a corner. Popovic set up and Nick Strack called a play for freshman Nyal Higgins. Popovic kicked and Higgins saw his target.
"I jumped up and I didn't know where I was, so I just flicked it on and it went in," Higgins said.
The ball went to the right of Beckwell. 2-1 Oakland.
The defense contributed in a very physical way throughout the match, helping a sometimes-antsy Liam McQueenie, who is a freshman goalkeeper. Higgins was a noticeable part of that, playing left center-back with the same use of his head (literally) as in his goal. So was midfielder Dean Akeel, who dropped back to help stop some Detroit counterattacks, Pogue said.
"Liam's a young goalkeeper," Pogue said. "Was it a complete game for him? No. He's got some things he needs to work on. But, I was a goalkeeper in myself. The margin for error is close to zero."
McQueenie will eventually form to the pedigree of Oakland goalkeepers, but not without some improvement, Pogue said.
"At the end of the day, he's a young freshman being asked to help us win a third Horizon League Championship in a row. So far we're 3-0, and he's helped with that."
Pogue was disappointed in Oakland's effort at the start of the match.
"It's one thing not to win, it's another thing not to compete," he said. "For a little stretch there in the first half I didn't think we competed."
Halftime allowed a chance to regroup.
"This kind of derby [geographic rivalry] game, sometimes it's not pretty," Pogue said he told his team. "Sometimes you need to do the little things to win."
They did.
The Golden Grizzly squad moves to 3-4-0 overall, 3-0 in conference, with a home match against Dayton lined up for 3:30 p.m. ET on Saturday, Sept. 24, during Homecoming. You can watch on ESPN3, as well.