New Program helps students get involved on campus
New Active Grizzly Program helps students get involved in on campus programs by providing an incentive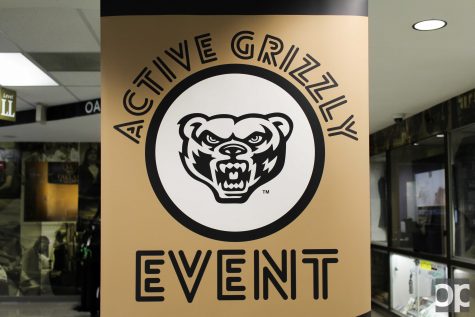 Getting involved on campus isn't always easy and it is especially hard if you are a new student or a commuter. A new program called Active Grizzly has begun this week and it is designed to inform and encourage all students to get involved on campus by giving them an incentive.
It is based on a point system, which keeps track of the student's attendance to events, meetings, and programs when they swipe their Grizzly I.D. card as they enter.
Student Activities Funding Board Chair, Jorge Garcia, helped create this program. He explains that points are gradually earned because the amount of points a student can earn per event varies.
"Meetings for student organizations are usually worth one point, because they generally only last forty-five minutes to an hour, but larger events will be worth two to three points depending on the length of the event," Garcia said.
Once a student reaches a certain amount of points they can win prizes. Ten points earns a water bottle, twenty points earns a t-shirt and a water bottle, and thirty points earns a grizzly hoodie, a t-shirt and a water bottle.
In order to join this program a student must log into GrizzOrgs and click on "forms" and complete the "Active Grizzly Registration Form." Once students are officially registered, they will receive an Active Grizzly Newsletter via email every Friday, which includes information about the events considered in the program.
To redeem your points, you must visit the GrizzOrgs home page, click on your name in the upper-right hand corner and scroll down and click on the tab labeled "involvement." There you will find all the events you have participated in.
Click on the tab labeled "all dates" and change it to the current semester. You can then print off the webpage and turn the sheet into the OUSC office.
In addition to students benefiting from the program, Stephanie Jurva, Assistant Director of Student Organization Programs explains that student organizations will too.
"This program will help the student organizations by exposing their events to the campus community," Jurva said. "Students that may not have attended will have the extra incentive of the Active Grizzly program to earn points, but then could find they really enjoy some of the events and will return on their own without the extra incentive." She believes this program is going to help all organizations grow because it will attract not only the student's that stay on campus, but commuters.
"The commuters may easily be attracted to the free swag, but once they become involved they will find out about all that OU has to offer and it will encourage them to attend other events that they are interested in," Jurva said.
In other words, the CSA recommends every student to get involved with Active Grizzly. Getting involved on campus is highly underrated,it can help you find your strengths and passions to create a better you.
You may even meet life long friends in the process, which is always a plus. Most importantly, you can earn free grizzly merchandise. All you have to do is register on GrizzOrgs and wait for the email that is sent out each Friday containing the upcoming events.