Former Golden Grizzly Olivia Nash heading to Finland for pro basketball
Nash trades the black and gold for blue and white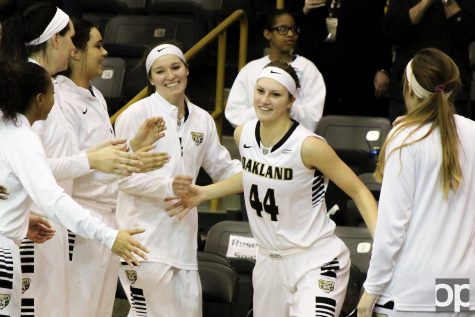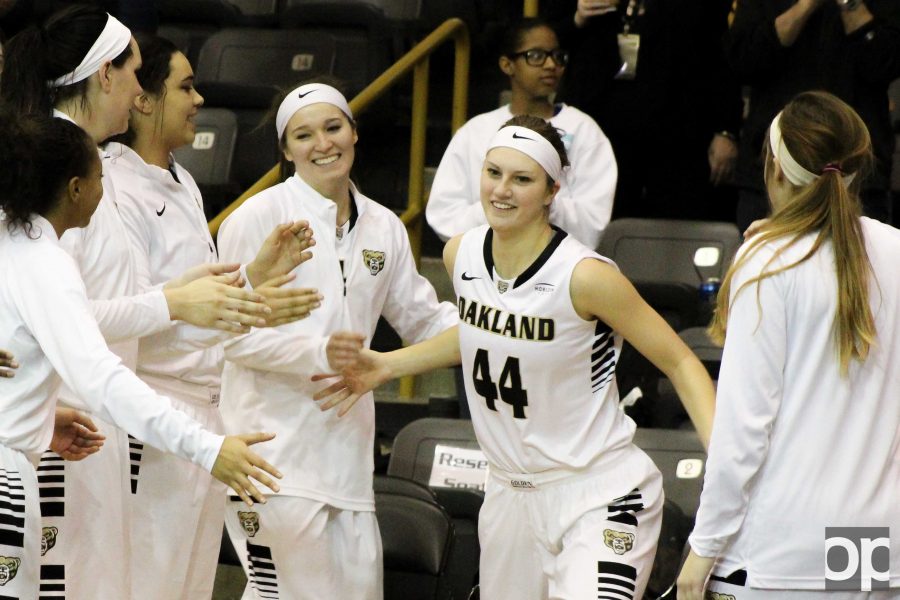 Oakland's women's basketball season has not officially begun, but some former players' dreams are coming true.
Olivia Nash is one athlete who has signed a contract to play professional basketball internationally. Nash has joined Vimpelin Veto (ViVe) under Head Coach Jarkko Havu. The forward from Escanaba, Michigan, is moving to Vimpeli, Finland, to play in the SM-sarja league.
The Oakland Post caught up with Nash over email. Answers have been edited and shortened.
Why did you choose to play basketball over any other sport?
Nash: I chose basketball over other sports mostly because it was what I grew up with. I started playing at such a young age, which allowed me to develop my skills better than any other sport.
When did you start playing?
I started playing basketball when I was in second grade.
What is your favorite part about your sport?
[My] favorite part about basketball is being able to be on a team and having the chance to meet new people. Also, the opportunities it has given me.
Did you ever have an obstacle at any point during your time as an athlete? If so, what is it and how did you overcome it?
Overcoming a few injuries my freshman year, and also dealing with the coaching changes going into my sophomore year. I overcame my injuries by being persistent in my physical therapy. To overcome the coaching change I relied on my team and the new coaching staff to come together.
What did it feel like the moment you committed to Vimpelin Veto?
It was a very exciting moment. It almost didn't feel real until I officially signed the contract.
Who is your biggest fan?
My family.
Do you have a special ritual or anything that you do to get pumped before a game?
I usually try to be the first one on the court before a game, where I shoot a series of shots.
What is a lesson that Head Coach Jeff Tungate taught you during your time at Oakland that you will take into your professional career?
A lesson that Tungate taught me was that, "99 percent of the things you worry about don't ever happen," and to always stay positive!
What has your experience been like thus far as a professional basketball player?
I leave Sunday, Sept. 18! Looking forward to a change.
What do you miss most about participating in college athletics?
Being with my team every day.
What is your most memorable moment as an Oakland student-athlete?
Beating Green Bay at home during senior night.
What legacy do you hope to leave at Oakland?
I hope the legacy I leave at Oakland is to play every game like it's your last.
What advice would you give to current and future Golden Grizzlies?
Have fun and don't take anything for granted!
How would you explain your experience as a collegiate athlete in one word?
Memorable.