Career Services makes key changes
Introduces Handshake and new offices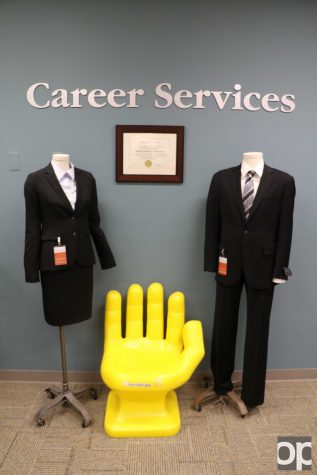 In the hopes to better help students and create more Oakland University success stories, Career Services has made several changes to their model.
This includes a new site called Handshake, new offices and new positions for their staff.
"I'm hoping that all of this will help students be aware of us and help them become better prepared job seekers," Kelly Dorner, associate director for Career Services, said. "This isn't an isolated thing just in our office. It'll be all around them."
Handshake
In the past, OU has used a site called Career Link for students to build resumes, make connections and apply for jobs. On July 1, it launched a new site called Handshake that will replace Career Link.
Wayne Thibodeau, senior director for Career Services said that Handshake is more user friendly than the previous site.
"It's much more creative and innovative feel for students. It has a Facebook look and feel to it," Thibodeau said. "We have found it to be very user friendly in helping employers find students based on their interests and resume preparations."
Dorner added that Handshake will also enable students to schedule Career Services appointments online instead of having to go into the office or call.
More campus presence
To become more accessible, Career Services has added offices in the School of Business and Administration and the Engineering and Science Center on top of their main office in North Foundation Hall.
"This means higher level service for the students' academic programs for the business and engineering schools," Thibodeau said. "Our focus is to try and help get students prepared for the market and promote career readiness, this will help with that."
Business, engineering and computer sciences majors will now have career consultants in the buildings in which they will have most of their classes. Dorner said that they are hoping this will encourage those students to take advantage of Career Services.
More staff
In order to oversee this new model, Thibodeau was promoted to senior director this past year. Two directors of employer relations will assist him in helping the student body.
"In our old facility we never had enough personal to facilitate employer engagement and facilitate new partnerships," Thibodeau said. "I felt a strong need to put people in those two biggest schools that have permanent focus on bringing employers here."
These two directors will focus on bringing employers and students together in networking and internship opportunities. They will help students build their own brands as well as fostering talent recruitment with companies and students.
Dorner added the move to have more offices and staff was to make things more convenient for students as well as less intimidating.
"This can now be an ongoing thing for their entire academic career," Dorner said.
Career Services also held two career fairs this week, one yesterday and another today, to provide networking and internship opportunities. They also provide etiquette dinners, speed networking, internship mixers and meetings with student career ambassadors that are offered throughout the academic year.