Road March doubles earnings from last year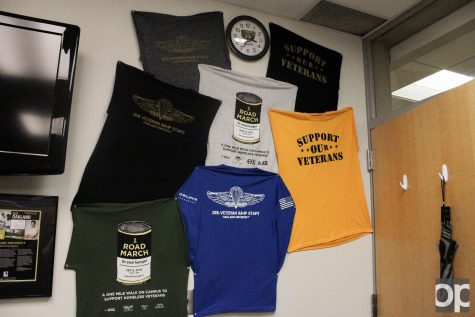 On Sept. 9, the Student Veterans of Oakland University hosted their second annual Road March to End Hunger in support of local homeless veterans.
Last year, the event reaped 300 pounds of food among other donations. This year, Road March collected 600 pounds of food and nearly $600 in monetary donations.
"The end of the day ended up being super successful," said Cheyenne Schmidt, vice president of SVOU. "We doubled our donations from last year."
Schmidt attributed some of the success to the 9/11 memorial service that kicked off the event, which was new this year.
"The 9/11 service was so successful," Schmidt said. "It was so nice to honor those who had lost their lives to start out the event and inspire everyone."
Schmidt went on to say that the memorial and Road March were met with support from other veterans and local VFW groups, which SVOU enjoyed having around during the event. Schmidt said they were so grateful for the support they received from both the community and OU students.
On top of having the memorial service as part of the event, SVOU held Road March several months earlier than they did the previous year. Previously, Road March was held in November to coincide with Veterans Day.
"I think having the memorial and Road March combined really intensified the effect of the event," Schmidt said. "It was nice to have it earlier in the year."