Oakland Athletics goes Coney Style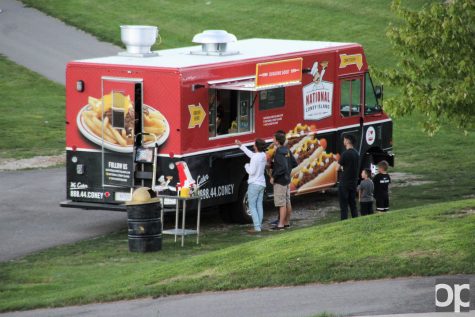 Fans who attended last week's Oakland's volleyball match or the men's soccer game had the opportunity to taste the new food provided by National Coney Island at the concession station in the O'rena and at National's new food truck, parked outside Oakland's Soccer Field.
The new partnership between Oakland University Athletics and National Coney Island started last week, but plans for the partnership go back to last spring when Athletics began to bid out the concessions operation to interested parties.
Bob Nichols, vice president of operations at National Coney Island, noticed the opening for the concessions while attending basketball games at the O'rena in the past and thought it would be a great opportunity for National Coney Island. With Oakland's recent growth and success in athletics, the two were able to close a deal on a partnership.
"We are proud to be part of Oakland University, which is a growing and great university. We feel it will be great partnership," Nichols said. "We hope to expand our food truck outside of athletics and more onto Oakland's campus."
Founded by James Giftos in 1965, National Coney Island currently owns and operates 20 restaurants in Metro Detroit, according to their website. Being part of Metro Detroit for over 50 years, they have already branded their name in the community with their all-American classic food, reasonable prices, fast and friendly services, but most importantly, their famous Coney dogs — all of which caught the attention of the Golden Grizzlies.
"We were fortunate that National Coney Island was interested in getting involved," Director of Facilities Andy Adrianse said. "They are a great company, have been around for a lot of years, and are well-established in the area. They have a great infrastructure in place along with a strong support staff, which was a big plus for us during the negotiation process."
Game day experience
Food and beverages during athletic events are not deal breakers for most fans; however, having a variety of freshly prepared food at an event could make the experience better. Oakland wanted to provide that by offering providing hot foods and an overall enhanced menu at Athletics events. The food that National Coney Island will be providing at the concession inside the O'rena includes some National Coney Island items, such as their Detroit-style Coney dog, topped with their famous chili, mustard and onions.
The new operation will also serve freshly prepared hot dogs, pretzels, popcorn and nachos, in addition to other options. Depending on the event, there may be additional special menu items offered.
Food truck
In addition to the concession operation inside the O'rena, National Coney Island will also be providing a new food truck at select Oakland Athletics events.
The food truck had plenty of customers while parked outside during the men's soccer game against Michigan State University on Sept. 14. Fans from both teams lined up at the truck to get a taste of what it had to offer.
The food truck menu includes Coney dogs, fries, chili cheese fries, chicken tenders and other small snack foods. Prices for food and beverages ranges from one dollar to five dollars.
"The food truck in particular is really a cool thing because food trucks in general have become so popular in recent years. Being able to offer that at one of our first big soccer games of the season, with over 1,300 people out there, really added an element to the atmosphere that guests hadn't been able to experience before," Adrianse said.
The food truck caught the attention of the broadcast booth and Neal Ruhl, Oakland's play-by-play announcer.
"We heard a lot of positive comments, received lot of praise through social media and also had the game broadcast through ESPN. Neal Ruhl gave Athletics and National Coney a plug on air, which was great," Adrianse said. "These are the type of things we want to continue to do to help spread good will with our valued partners and continue to establish better relationships with all those who support us."