Men's soccer rounds up Green Bay, continues undefeated in league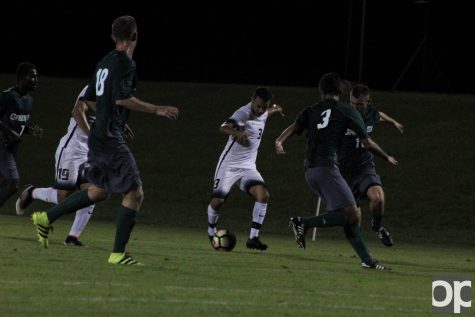 Seems like that tough non-conference schedule is paying off. After going 0-4 against UC Santa Barbara, Virginia Tech, Penn State and Michigan State, Oakland men's soccer is 2-0 in the Horizon League, beating Green Bay 2-0 at home on Saturday, Sept. 17
Chase Jabbori and Austin Ricci scored the Oakland goals. Jabbori got right up in Green Bay's grill and scored from five yards out in the 32nd minute with a little help from a deflection off Green Bay's keeper Kyle Ihn, who saved a shot from Oakland's Wilfred Williams. Then, in the 51st minute, freshman defender AJ Shaw crossed to midfielder Austin Ricci, who threaded the needle from the middle of the penalty box with a ground-hugging shot.
Nebosja Popovic shot three and got one on goal. Jabbori, Williams and Alex Serwatka each had a shot.
For the Phoenix, Sidney McClain, William Nordenstrom and Vincent Nguyen each had two shots.
Ricci put up seven shots of Oakland's 13, four shots on goal to the team's seven. In other words, he was a madman Saturday night. It was also one day after a full moon. Coincidence?
"Just trying to get things started," Ricci said. "I had a slow start to the season, and I just thought if I keep shooting, keep doing things, eventually stuff's going to start to happen."
Ricci was a Horizon League Co-Offensive Player of the Year in 2015 and got on the All-Horizon First Team.
"He's kind of a marked man," Head Coach Eric Pogue said. "It's hard for him. Because if he stays too high, he's going to get beat up by the big centerbacks there."
So they tried to do the False 9, letting Ricci go back toward Oakland territory for a bit, making the defenders take the risk of going after him or the risk of letting him choose his approach.
"Once he gets going, he's a handful," Pogue said. "If he can get a shot off, most of the time he's going to put it on frame, and he's either going to score or he's going to require a big save out of the keeper."
He draws attention, giving the forwards some breathing room.
Wilfred Williams was a peculiar case, listed as a defender, but travelling the field like a back and midfielder at once. It's the thing to do in the pros, he said.
"A defender's job is not just defending," Williams said. "His job is to get up and down the field and helping in the attack and getting balls in. Just being that extra winger."
So that's what he worked on.
"With the games we've been playing and the teams we've been playing, it's a little bit more difficult to do because we're defending a lot," Pogue said. "I don't think we've totally seen the great benefits of a guy like Wilfred Williams."
"It's helping our team," Williams said.
Evidently. The ricochet that preceded Jabbori's goal was off the Green Bay keeper, courtesy of a package from defender Williams.
The stacked non-conference and exhibition schedule stored the potential of this Oakland team. After tempering themselves with preseason nationally-ranked competition, the Horizon League looks different.
"You see more mistakes happen," Ricci said. "We're just more prepared. I feel like we're ahead of everyone else in our league right now."
The non-conference was education, Pogue said.
"We're playing the game; we're breaking down the film," he said. "Tweaking each and every game a little bit. And I think we did a nice job [tonight] of controlling the play through the midfield and getting our outside backs involved in the play."
The defenders were key and stifled some Green Bay opportunities, Pogue said.
Next game is at Detroit at 5 p.m. ET on Wednesday, Sept. 21. There's not much time, so the team will mostly rest and study the Green Bay game film. Still:
"That [Detroit] game's all about heart," he said. "You can scout each other all you want, but everybody knows each other. It's gonna be a grudge match."