Chartwells revamp keeps things fresh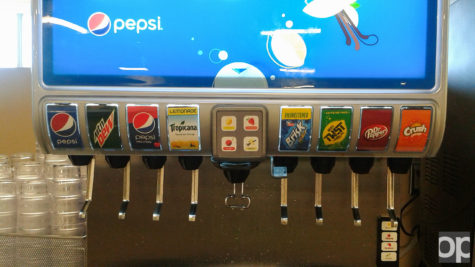 This year, Oakland University residents were greeted with a shiny new cafeteria in Vandenberg Hall. From the changes to the made-to-order station Menutainment to the inclusion of an on-site baker for desserts, Chartwells has stepped up its game to meet student demand.
James Zentmeyer, director of OU Housing, said that this past academic year, participation was substantially higher in the dining hall, meaning that more and more students are going there for their meals every day.
Below is a list of some notable changes that Chartwells has put through for this academic year.
An increase in display cooking
Zentmeyer emphasized that the renovations in Vandenberg Hall allow students to watch more of their food being made.
The old Menutainment station now takes up the central area of the cafeteria and also hosts an expanded salad bar and deli.
"The salad bar . . . has a lot more cold holding space," said Mark McCormic, district manager of Chartwells. "The cold holding has been a big help to allow us to make the food in front of the guests rather than making it all in the back and holding it in a hot cabinet."
Tilly's hours have changed
The convenience store and sandwich station Tilly's has altered hours for this academic year. Students may remember that for the past two years, the store was open until 2 a.m. every day of the week.
This year, the store hours have been altered. Monday through Thursday, the café will be open from 7 a.m. until 2 a.m. On Saturdays, it will be open from 7 a.m. until 10 p.m., and on Sundays it will be open from 10 a.m. until 11 p.m.
Seating has changed
Inside Vandenberg, the location of the bar-style seating has changed. Instead of being right behind the soda fountains, individual seating now overlooks Bear Lake.
"I never understood why a student would want to eat and stare at a wall," Zentmeyer said. "Now they have a view over campus."
In addition, the décor in the glass room has changed, with the photographs of landmarks around OU being replaced by photographs of food. In the main dining area, a large Grizz decal is placed right on the center support beam, and music now plays constantly in the cafeteria.
Only one transfer per meal period
Students last year may have realized they could use a bunch of meal swipes at once through the use of transfer meals. This glitch in the Chartwells system has been fixed this year.
"The resident meal plans have always been intended to provide one meal per meal period," McCormic said. "The transfer meals were tricky to get to work with all of the locations that offered transfer meals."
He continued to explain that while this could have been changed last year, they decided to wait in order to prevent frustrating residents.
Late Night Snack is now more of a meal
One of the more substantial changes happening in Chartwells this year is a complete renovation of the Late Night Snack, often referred to by students as "Fourth Meal."
This period was never intended to be a meal, but Zentmeyer explained that, for many students with abnormal schedules, this snack period becomes their main meal.
"It's my favorite accomplishment of the renovations," Zentmeyer said. "It services students with off-ball schedules who see Late Night Snack as a meal."
The snack is now all-you-can-eat, and runs Monday through Thursday from 8 p.m. until 11 p.m.
"We are excited to hopefully get more guests at that time of night," McCormic said.
More to come
Some may have noticed that Vandenberg's ice cream cooler is absent this year. It will be located near the desserts soon.
Zentmeyer confirmed the reason for its absence thus far is due to pieces arriving late and being incorrect. Within the next few weeks, the ice cream will be back as another dessert option for students.
These aren't the only changes in the new future for Chartwells, though. Zentmeyer said the renovations this summer were only part of what they plan for Vandenberg.
He explained that the goal is to move the G8 station to where the dish return and trash is, and put the trash in the corner where the G8 station is. The G8 station is Chartwells' allergy-safe station.
Zentmeyer hopes that with the move, there will be more room for prep work, cooking, storage and serving to happen right there at the station.
"It would offer even higher assurance that there's a lack of cross-contamination of allergens from other foods being prepared that day," Zentmeyer said.
SIDEBAR
Try out some of these life hacks to diversify the types of foods you're eating this year!
Try using declining points on a cup of queso at Moe's, and get a transfer meal of fries and nuggets at Chic-Fil-A. Cheese fries, anyone?

Both Mark McCormic and James Zentmeyer recommend paying a bit extra at the Smokey Paws food truck to add pulled pork to your grilled cheese sandwich.

For something different, Friday at Lunch you can get sliders. Zentmeyer says he tries to limit himself to only one, but with a plate of fresh sliders, can you really go wrong?

Check out Au Bon Pain late at night just before closing. Any fresh pastries from the morning are marked down half off.

Change up your salad by adding some items from the Mongolian Grill. More often than not, there's bell peppers, water chestnuts and even mandarin oranges or pineapple.

New flavor shots have been installed on the pop machines in Vandenberg. Try combining different flavors for a unique experience!

2 shots cherry + Mountain Dew = Game Fuel

2 shots cherry + 1 shot vanilla + Dr. Pepper = cherry vanilla Dr. Pepper

1 shot strawberry + 1 shot lemon + lemonade = strawberry lemonade

¾ glass of lemon lime soda, ¼ glass of apple juice = sparkling cider

Sweeten up the unsweetened tea with two shots of your favorite flavor

My personal favorite: 3 shots of cherry in cherry Pepsi!

Once the ice cream cooler is back, try making a root beer float or a Boston cooler by adding two scoops of vanilla ice cream and the soda of your choice. I hear blue moon ice cream and Sierra Mist is a good combo!
Leave a Comment