Head swimming coach inducted into Michigan Sports Hall of Fame
Pete Hovland and Derek Jeter are about the same height. Chris Osgood is shorter. Ben Wallace is taller. Hovland's 35 years and over 50 conference titles as head coach of Oakland swimming allow this comparison. He was inducted into the Michigan Sports Hall of Fame on Friday night along, with a highly-recognizable roll of inductees who took the stage at Orchestra Hall in midtown Detroit.
"That was never part of the plan," Hovland said.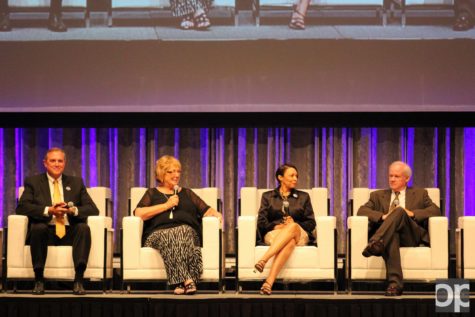 When he graduated with his master's from Northern Iowa 1979, he was just worried about getting a job, getting a chance. He got handpicked for an assistant position at Oakland.
Fast forward 37 years.
"It's definitely a passion," Hovland said. "It's definitely a lifestyle for both my wife and I. When you're around young people all the time, it makes it easy, and it doesn't seem like 38 years have just come and gone."
With the athletes and challenges cycling every year, things stay fresh.
"I think he's reached a point in his career where he's actually seen and done everything," said Hovland's wife of 16 years, Laurie. "I'm so proud of him."
Laurie knows Hovland's enthusiasm for what he does. It's an enthusiasm she shares. She goes to every home meet and some away meets.
"We don't have any children," Laurie said.
But they kind of do.
Tracy Huth — Oakland's former athletic director and one of the most decorated student-athletes in school history — has witnessed much of Hovland's career. Huth swam one year under Ernie Maglischo, Hovland's former coach at Chico State, and swam the remaining three years under Hovland.
Maglischo was the father figure; Hovland was the older brother. Now Hovland is like Maglischo. He's been steady.
When Hovland was the young gun, he was wholly focused on getting his team to perform. Not that this has changed, but the picture has grown, Huth said. Hovland has coached over three decades of alumni. Some of them might even have grandkids.
"I never thought he would want to stay [at] Oakland," Maglischo said. "I didn't think I was going to be able to talk him into coming there in the first place. He just fell in love with the place."
When Maglischo got the head coaching job at Oakland in 1979, Hovland was graduating from Northern Iowa. Maglischo needed an assistant, which in practice was the women's head coach. Hovland was first choice.
"I knew him," Maglischo said. "I respected him mightily as a competitor. He was just the best swimmer I'd ever coached."
Hovland was easy going, but going somewhere. Maglischo wanted help with recruiting, and those qualities fit the bill.
"The thing that I appreciated the most was how loyal he was to me," Maglischo said. "He didn't try to upstage me. He worked with me. He did things the way I wanted him to do them instead of going out on his own. He was a good, solid person. I knew that."
After being introduced at the Hall of Fame induction ceremony, inductees were brought onstage in groups and interviewed by Fox 2's sports director, Dan Miller.
"All right Pete," Miller said when it got to Hovland's turn. "You've got some explaining to do here. How does a guy that spent his whole youth in the water, and doing it in Santa Cruz, California, end up in Michigan and never leaving?"
"Great question," Hovland said.
Friday night was a recognition of his answer.