Elena Popkey continues to rep Oakland
Former Golden Grizzly keeps jersey number overseas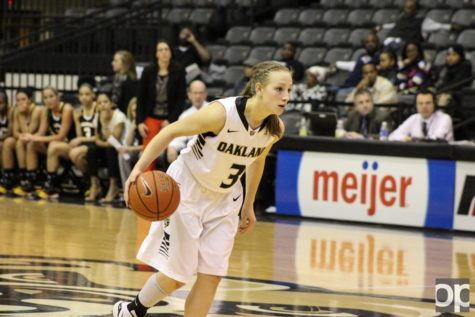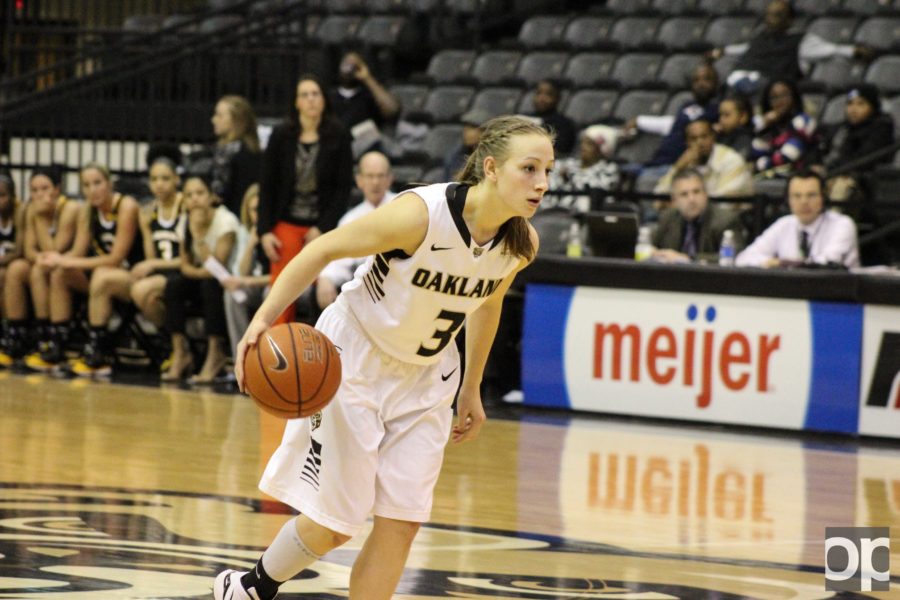 A spectator may see a player's jersey number as just a number, but to athletes, it's much more. The number three is just as important to Elena Popkey today as it was when she was a women's basketball player at Oakland University.
Popkey is one of the newest members of the Elangeni Falcons, a team located in Bad Homburg, Germany, and member of the Damen Basketball Bundesliga league. The Falcons are instructed under head coach Jay R. Brown.
"Elena represented everything you would want in a student-athlete and is a great ambassador for Oakland University," Oakland head coach Jeff Tungate said. "I am really happy that she is getting the opportunity to fulfill her dream of playing professional basketball."
"Good things happen to good people," he added.
Tungate believes the number three is "perfect" for Elena.
"She is committed to her faith, her family and her friends," Tungate said. "She excelled academically, athletically and socially."
The Post caught up with Popkey over email for a Q&A. Responses have been slightly edited.
Why did you choose to play basketball?
Ever since I was very young, I have loved playing the game of basketball. It taught me the importance of being a part of a team and setting goals for myself. I love being active and learning new things and basketball continues to challenge me everyday.
What age did you start playing?
I started playing basketball at five years old.
Did you pick your jersey number when you came to Oakland University?
I wore the number three when I played in AAU (Amateur Athletic Union) and in high school as well, so when I was given the opportunity to wear number three in college, I took it.
Why the number three?
The number three is very significant to me. It represents the Father, The Son, and The Holy Spirit. It constantly reminds me of who I am playing basketball for and who gave me the talents to play.
In what three ways does the number three represent you?
Number three stands for the Trinity, which represents my faith.

It constantly reminds me to be in service: Christ first, others second, myself third.

3-pointers. They are a big part of my game that I love.
What are three lessons that your sport has taught you?
Christ has taught me many things through the sport of basketball. A couple of them include:
God is a good Father who gives good gifts. He receives joy when you enjoy the gifts that He gives you… so I have learned to enjoy the game of basketball.

The value of community, sisterhood and a team.

Comparison is the thief of joy. Focus on yourself and how you can get better. "A flower does not think of competing with the flower next to it. It just blooms."
As a former Oakland women's basketball player, how would you explain your experience as collegiate athlete in one word?
Rollercoaster. There are many ups and downs throughout your entire career, but the one constant that you can always cling to is Jesus Christ. It says in Hebrews 13:8 He's the same yesterday, today and forever. And His love for you never fails (Psalm 136:1-2).
Do you have a special ritual or anything that you do to get pumped before a game?
I listen to worship music before games and pray. Once I am in the locker room, I love to dance and I love praying with the team before we head out to the court.
What do you miss most about participating in college athletics?
I miss the people. Being a part of athletics has given me an incredible opportunity to build relationships with different staff members, athletes on other teams as well as my own team. It has also given me the opportunity to be a leader of Fellowship of Christian Athletes [FCA] where I made my closest friendships and ministered to many athletes.
What legacy do you hope to leave at Oakland?
I hope to leave a legacy of love. I want people to remember that I loved God, I loved others, and I loved what I did well. My goal in college was to love others well, because as it says in 1 John 1:4 "God is love," and so every time I was showing love to others, I was showing them Christ.
Did you ever think you would end up where you are now?
This has been a dream of mine since I was really young and I worked my hardest at it. So although I may not have pictured myself in Germany specifically, I definitely knew I would end up playing professional basketball someday.
What advice would you give to current and future Golden Grizzlies?
You can't build up unless you have a strong foundation. Build your life on Christ, love, joy, friendship and family. Keep the main things and keep your priorities straight.
What did it feel like the moment you committed to the Elangeni Falcons?
There was a lot of excitement, but it did not feel real until I left my home to catch my flight for Germany.
How important was it for you to keep to same jersey number as a member of the Falcons?
I love representing Jesus Christ, so I jump at any chance I have the opportunity to do so.
What has your experience been like thus far as a professional basketball player?
It's been an incredible experience filled with lots of adventures and new encounters.