Brooksie Way Half Marathon is back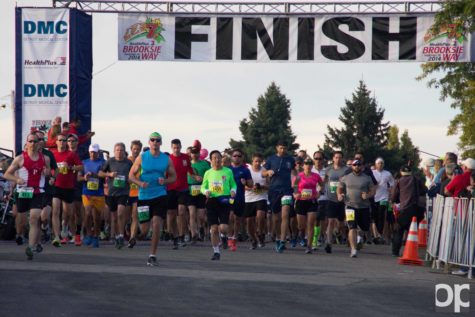 The HAP Brooksie Way Half Marathon, 5K and Fun Run are scheduled for Sept. 25 at 8:00 a.m.
The races will start and end at Oakland University's Meadow Brook Amphitheatre, located at 3554 Walton Blvd.
The courses vary depending on the race event and can be viewed at www.thebrooksieway.com/.
The Brooksie Way became a 501(c)(3) non-profit organization in 2011 after holding their first annual race in October 2008. The event was created in honor of Brooks "Brooksie" Stuart Patterson, the son of Oakland County Executive L. Brooks Patterson, who died in a fatal snowmobile accident in 2007 at the age of 28.
The event strives to promote physical activity within the community and is sponsored by OU. 
Proceeds from the race fund programs support a healthy and active lifestyle and are dispersed through Brooksie Way Minigrants.
The Brooksie Way Training Programs are also available for those who have never participated in a race or walk before and want to improve their time before the actual event.
Deborah Kiertzner-Flynn has been race director of the Brooksie Way Half Marathon for nine years. She is in charge of everything from recruiting sponsors, ordering T-shirts and food, and planning for the race.
Kiertzner-Flynn described the Brooksie Way as a "world-class" event in Oakland County.
"We have one of the best half marathon races and a beautiful course," she said.
For the first time, this year's 5K runners and walkers will receive a diecast finisher medal.
In 2014, the winner of the half marathon was Donald Richmond. In 2015, he finished second to Max Hock.
"Last year I was pretty exhausted," Richmond wrote in an email. "I had a sinus infection and kind of suffered through the second half of the race. Not to say I wasn't exhausted the year I won in 2014, but there's something about being in the lead of a big race that gives you a little extra adrenaline boost."
This year, he will run the 5K instead. However, he believes his brother Adam Richmond is a potential winner of the half marathon. Adam is running the Brooksie Way as a "tune up" for the Detroit Free Press/Talmer Bank Marathon in October.
According to his brother, Adam is in "great shape right now."
"He has been out of the game a little while, but is making a big comeback," Richmond wrote. "I would say he is definitely a dark horse to win the half marathon."
Both brothers ran for Central Michigan University, and Adam ran for Playmakers for about a year after college.
"Brooksie Way is a very inspiring event," Richmond wrote. "There are a lot of people out there working hard and trying to accomplish a goal. It's a great atmosphere to be a part of. It's one of the best things about distance running. The training can be a very solitary sport, but on race day we all come together, realizing there are many others who have been doing the same thing with similar goals."
"And in Michigan," he added, "with a tough winter around the corner, we need all the inspiration we can get to keep running!" 
To register as a race participant, donor or volunteer, visit www.thebrooksieway.com/ for more information.