Out of the Darkness suicide prevention walk Nov. 5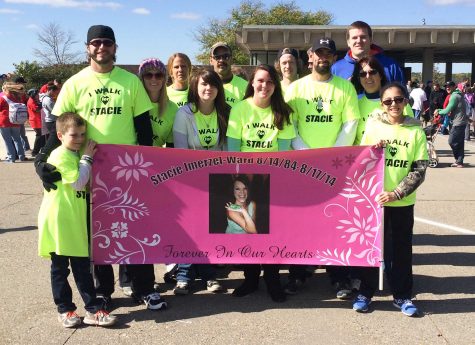 Stony Creek Metropark's Out of the Darkness Walk for suicide prevention is in its third year of benefiting the American Foundation for Suicide Prevention. Suicide is the tenth leading cause of death in America, according to the Centers for Disease Control and Prevention. 
The walk provides both a cathartic experience for participants and an opportunity to support local and national efforts to reduce the rate of suicide.
Since being brought to this location by Lisa Hook in 2014, Stony Creek's Out of the Darkness Walks have raised over $85,000 dollars, all of which benefits the AFSP.
According to their website, the AFSP's goal is to bring about change through establishing public policy initiatives as well as funding research and education.
But the walk's benefit doesn't come solely from the money it raises, or the number of walkers it hosts. The continued success of the event comes from its offering an opportunity for healing as a community.
"You're never going to forget someone's life," said Hook. "But just to have some closure and some bondage is really a beautiful thing."
Margaret Gupta, a volunteer for the event in 2015, recounted her experiences of the walk with the story of a man she met.
"There was this big guy there," Gupta said, "and he didn't actually go on the walk, but he was there because he needed to tell a story. His son committed suicide."
"If Lisa [Hook] hadn't asked me to volunteer, I wouldn't have known how powerful that walk was," she added.
Hook's goal for this year's walk is to reach $47,000 in donations to the AFSP. She hopes to attain this through the help of more than 375 people who are expected to attend. The event raised $35,000 in 2014 and $50,000 in 2015, according to Hook.
"Coming out of the darkness," Gupta said. "I think you can look at it many different ways. Out of the darkness of stigmatism. Out of the darkness because they feel so alone. There's different ways you can understand it all."
There are many people who still feel the sting of a loved one lost through suicide, but celebrating the lives they lived and the things they gave to the world can be a meaningful experience. The Out of the Darkness Walk is a collective effort that makes this kind of experience possible.
The event will take place Saturday, Nov. 5 at Eastwood Beach in Stony Creek Metropark. It begins at 10 a.m. and will end at 2 p.m.
Participants can register online until the Friday before the event or in-person on the day of the event. Visit afsp.org for information about other ways to get involved with the American Foundation of Suicide Prevention.