Organic farm thrives in spite of rumors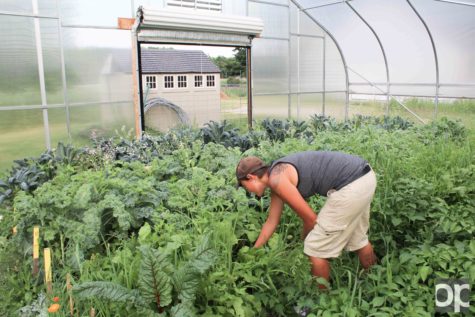 Oakland University's Campus Student Organic Farm is back in action this year, after rumors swirled about its relocation or closure earlier in the summer.
2016 marks the 0.6-acre farm's seventh year in existence. It is located on Butler Road and home to approximately 35 different types of vegetables, numerous student programs and Department of Biological Sciences courses.
An average of about 8,000 pounds of food is produced by the farm each year and is available for purchase at the Student Organic Farm Stand between the Elliott Tower and the Oakland Center.
The farm was founded by Fay Hansen and is completely manned by students and volunteers. Until July, there was also a farm coordinator, Jared Hanna, who worked approximately 60 hours a week to keep the farm up and running.
In June, funding for Hanna's position ran out. Upset student farm workers created a petition calling for his position to be preserved, and one even wrote an editorial in The Oakland Post asking administration to reconsider eliminating the position.
Hanna was granted a month's extension from the original termination date, but the position was ultimately eliminated in July. He continued teaching at the farm throughout the summer, but no longer has any obligations at the farm, according to Hansen.
"While we will miss [Hanna] for many reasons — he has been a great mentor and inspiration for our students, and a brilliant and innovative farm coordinator — the farm and the wonderful student community it attracts will move forward," Hansen said in an email.
Hansen will now be taking over the farm coordinator duties in addition to her other faculty responsibilities.
"We are fortunate to have a very strong student staff and many experienced volunteers and interns to help in the transition," she said.
In addition to the loss of Hanna's position, the farm also faced rumors of its relocation. At a meeting on June 15 at the Facilities Management Building, Hansen was given maps and line item budget estimates for moving the farm to the southwest side of campus, near the Kettering Magnetics Lab.
Concerns were raised over the costs – economical, ethical and practical – of moving the farm, but OU administration later said there had not been plans to move the farm in the first place.
"There's no current reason to move it because we want to do something else with that space. There's nothing else identified for that space currently," John Beaghan said in July.
Beaghan is the vice president for Finance and Administration and treasurer to the Board of Trustees. Beaghan and James Lentini, senior vice president for Academic Affairs and provost, co-chaired the committee that developed the new Campus Master Plan, which was approved by the Board in June.
"I can't tell you for sure that that's the ideal spot for it forever, so the advantage [of moving the farm] is if there was a better use for the space. It doesn't mean that we would get rid of the farm, but we would then have to make a plan," Lentini said in July.
"It won't happen this year, it won't happen next year, it won't happen the year after that," he added.
Moving forward, the Campus Student Organic Farm still faces challenges regarding funding.
Organic farming and permaculture courses BIO 331, 332, 361, 362 and 491 are held at the farm. Despite being home to these courses, the farm doesn't receive operating funds from the biology department, according to Hansen.
"I cannot state strongly enough how important our revenues from farm stand, as well as monetary donations, are for us to be able to continue," Hansen said.
The farm stand is open Thursdays 10 a.m. – 1 p.m. through Oct. 13, according to the farm's page on OU's website.
To make a donation to the Campus Student Organic Farm, use the fund code 30327 on the Give to OU Online form.