WXOU hosts 4th annual Welcome Week Bowling Fundraiser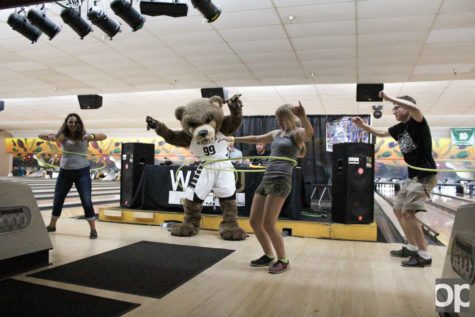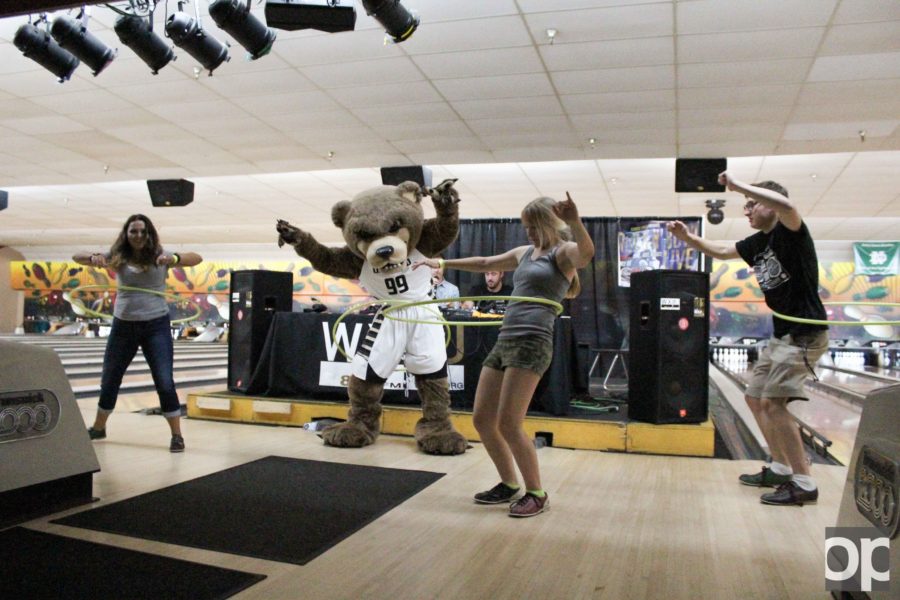 Welcome Week at Oakland University is an open door for all students seeking involvement. Although Oakland is a great location for events, sometimes stepping outside of campus can be a nice change of setting.
On Saturday, Sept 3, OU's radio station, WXOU hosted its fourth Welcome Week fundraiser at Avon Classic Lanes. The high-energy event was compiled of games, giveaways, food, music and bowling.
WXOU had numerous support in sponsors from restaurants including Buddy's Pizza, Bean & Leaf Cafe, Coney Island, Buffalo Wild Wings and Coolyo Frozen Yogurt.
Prizes and raffles were given out all night. Elisabeth Opperthauser, winner of the hula hoop competition, casually admitted winning was not much of a challenge.
"I've won hula hoop competitions a lot, I used to do routines," Opperthauser said. "I won a Coney Island certificate and a Bdubs [Buffalo Wild Wings] gift basket, and he [Elisabeth's finance] is probably going to eat all the [prizes]." Elisabeth continued, "I came to support the fundraiser. Welcome Week seems to have more events than last year and I'm glad I came."
Participating in Welcome Week at Oakland is an accessible approach to connect with other students and to get involved. Jake Rapanotti, general manager from WXOU, expressed his excitement about Welcome Week at Oakland.
"It's a great event to break the ice, especially the freshman coming into Oakland," Rapanotti said. "Since OU is mostly a commuter school, it can be harder to get that college experience. I want to bring [attention to people about WXOU], because I think the station is really cool."
As every lane in the bowling alley was occupied by students, seeing students not taking the games too seriously was a sign of everyone living in the moment and having a good time.
"My friend wanted me to come to this event and we're having a good time, bowling and hanging out with friends," Alyssa Steele, senior at Oakland, said. "Welcome Week has been great and this is actually my first event and I hope to go to Grizz Fest, and more events."
While Avon Classic Lanes was full of OU students, a few Alumni came out to support WXOU. Anthony Spak, recent alumni and current intern at the Oakland Press, was excited to see all the staff come together.
"We used to always do this event," Spak said. "You want to support the radio station, even if it's just 10 bucks […] It's the beginning of Welcome Week, the staff is coming together, everyone is pumped to be here and I miss seeing a lot of these people. It's good for the station, good for the bowling alley."
As vital as it is for Oakland University to have Welcome Week events, it is equally important to have fundraisers for organizations. Jake Rapanotti expressed his thoughts on attracting students into fundraisers.
"It is important to make sure fundraising events are fun. You need to give students a reason to come," Rapanotti said.
Oakland students can look forward seeing WXOU DJing around campus. Rapanotti shared what students can expect this year from the radio station.
"Students can expect us to continue to work hard, and put out good radio programing. We will be doing events throughout the year around campus, hopefully playing music [everyone] likes," Rapanotti said.