New walls for a new era: O'rena renovations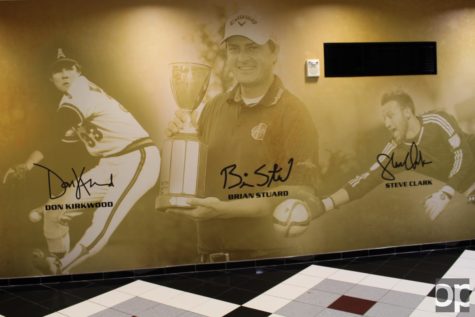 The entranceway to the O'rena experienced some renovations this summer. The hallway now features flat-screen televisions and graphics of past athletes on the walls, plus newspaper headlines and interesting factoids.
The man behind the redo, Athletic Director Jeff Konya, said that the Athletics Center has been open for nearly twenty years and was in need of a facelift. The main mission was to update the technology.
The hallway is decked out with three state-of-the-art televisions; two more are on the way. These TVs will eventually be adorned with push-button technology, and they'll be able to stream videos, post social media messages and more.
One of the televisions will be charged with the Hollie L. Lepley Hall of Honor, a roster dedicated for student-athletes, coaches and athletic staff who have been extraordinarily committed to Oakland University Athletics. This is a prime example of what Konya wanted to accomplish with the new look: to honor the past and acknowledge the future of Oakland's athletic program.
Two side-by-side wall graphics, one explaining the history of the Oakland Pioneers, and the other acknowledging the Golden Grizzlies era, are a window onto the story of the university. Konya says there eventually will be tiles for sale to take home that depict Pioneer Pete, the Grizz and/or the Oakland Sail. The price for these tiles is unknown at this point, though the current estimate is $2,500-$2,700.
There is no shortage of athletes being honored throughout the hallway. Those depicted include Keith Benson — a 2011 graduate who has played basketball in Italy, China and the NBA Development League, among other places — and Kay Felder, Oakland's former point guard who signed with the Cleveland Cavaliers in early August.
Another section honors Oakland's Olympic athletes. For Konya, this part is the most inspiring. He thinks the Olympic athletes from the university are underrepresented, both in the national and local media, and that showcasing these athletes will inspire all students to "become whatever you want to be here at Oakland University."
Konya is particularly proud of that section, which is not to say he isn't proud of every single aspect. He says the inspiration for the renovations comes from the work Athletics did inside its offices, which filled the walls with inspirational quotes and sayings. These decorations highlight the culture Konya has striven to create in his two years as athletic director: "Culture eats strategy for lunch" and "maximum effort" are among the citations.
The renovations are not over. Konya says that the changes are only 75 percent completed, and other items, including the additional televisions and statues, are still on the way.