Crestmark Bank gives $100,000 to business school
Donation to go toward student scholarships
Ten Oakland University business students will receive a $10,000 scholarship, thanks to a donation from Crestmark Bank.
The scholarships will be awarded to two students a year over a course of five years until all the money is used.
"I think this is a reflection of what we're doing here in the School of Business," said Michael Mazzeo, dean of the School of Business Administration. "It's a very nice scholarship and I view it as a recognition of the high quality students we have here."
The bank gave the scholarships as part of celebrating 20 years of business for the company. David Tull, the CEO of Crestmark, chose to give to OU because he is part of the school's community.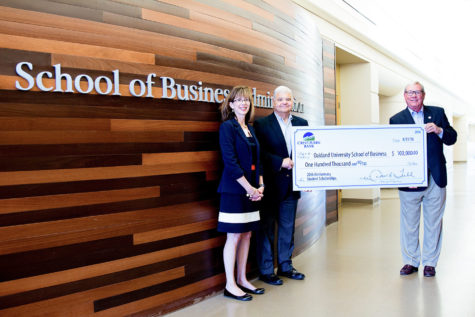 "Crestmark's core philosophy is to ensure that we help," Tull told the Oakland Press.
"As we celebrate 20 years of successfully helping small- and medium-sized businesses secure necessary working capital, this $100,000 scholarship fund seems a perfect way to assist students in the community where Crestmark is headquartered."
Tull works is the new vice chairman of OU's Board of Trustees, and has been part of the Board since 2014. Crestmark also employs OU alumni and takes students as part of its internship program.
Mazzeo said that he thinks this scholarship highlights the relationship Crestmark and OU alumni have through employment.
"My office works to build relationships with the top employers of our alumni," said Angie Schmucker, vice president of Development and Alumni Relations. "We're working to build relationships with those companies so that they not only continue hiring, but so they build upon those relationships with students the way Crestmark has done."
Schmucker also mentioned that Tull would like to see more companies help students with tools like scholarships. OU helps provide employees for the community, so they would like their partners to help enhance the learning experience, which is what Mazzeo said Crestmark has helped do.
"Nobody is guaranteeing these people will work for Crestmark, that's not the point at all," Mazzeo said. "I think they genuinely just want to help the students here to be successful, that's the hallmark of it all."
Mazzeo said OU works to connect its students and alumni with the community around it, so they can work together to improve the community and the experience of higher education at the university.
"I think what we really need to do is connect our students, alumni and community in order to better enhance the experience of education," Mazzeo said. "This is another wonderful experience we can give to students."
Both Mazzeo and Schmucker said they think this donation will help make a difference for hard-working students by taking a year's worth of tuition off their plates.
"This can change lives," Schmucker said. "Even a $1,000 scholarship makes a huge difference, so imagine the impact that these $10,000 ones will have."