Women's soccer splits two-game homestand
Oakland women's soccer (3-3-0) split a homestand in a 1-0 loss to Western Michigan (3-1-0) and a 5-0 win against first-time opponent Chicago State (1-4-0). The Golden Grizzlies' half-and-half record is an improvement over their 0-5-4 start last year, when they won the Horizon League Championship.
Western: L 1-0, Sept. 2
Oakland was simply outgunned: 16 shots to three, seven on goal to one. The Broncos put up six corner kicks and the Golden Grizzlies none.
At least Alison Holland got some practice. The senior keeper made six saves. Her 33% save percentage coming in rose a bit. Only one slipped by, but that was enough.
Perhaps part of the reason for the onslaught were Oakland's eight fouls to Western's two in the first half. Even though that ratio dropped to six to four in the second half, the reversal of game flow would be hard to quell.
In fact, the one goal of the game was from a free kick 20 yards out on right-center. Maria Jaramillo got the score in the 72nd minute.
"I thought we came out pretty well in the first half to start out, but slowed off a little bit, took our foot off the pedal," Oakland head coach Margaret Saurin said in the GrizzVision interview with Neal Ruhl.
The numbers don't tell the whole story. Saurin had the women make some adjustments at halftime.
"I thought we put them under a lot of pressure and actually created a number of chances for ourselves," she said. "We felt that if we just had a little bit more pace, essentially, that we were going to be able to put the two center-backs under a little bit more pressure. They did open up quite a bit."
The full-backs went forward and the Golden Grizzlies were able to infiltrate some.
"Their keeper made a great block to keep it zeroes," Saurin said, "and then they went down the field, got a free kick and put that in the back of the net, unfortunately."
Chicago St.: W 5-0, Sept. 4
Not in nearly two decades has an Oakland women's soccer player scored as many as Sydnye Gagner did on Sunday. With four goals, she tied a school record.
Three were within a half hour of each other (one of those on a penalty kick in the 86th minute). The other one was in the 24th minute. She played 67 minutes total and made for a hefty lead.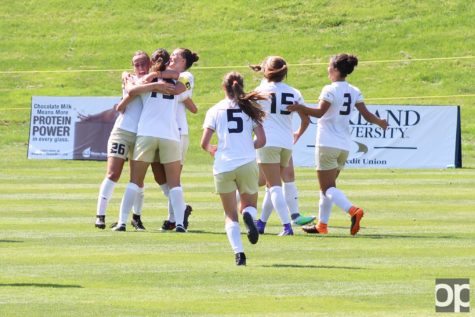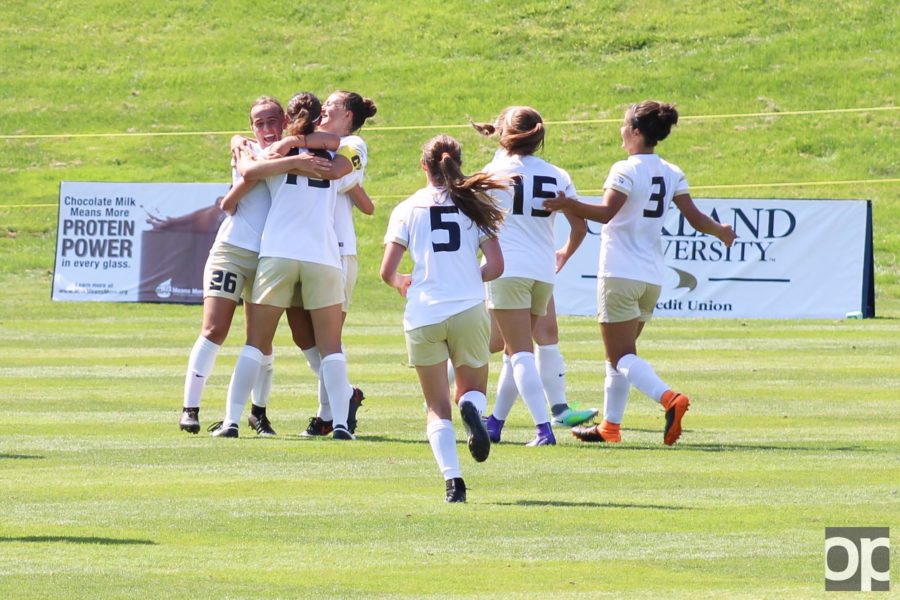 "I think it was just a good team performance," Gagner said in the GrizzVision interview with Neal Ruhl. "Team played really well, which helps."
Cecilie Dokka got the other goal in the 72nd minute from five yards out, her first goal of the season.
"It took us a little while to get going," Saurin said. "It was only one-nil at half time."
So she and the team talked.
"We knew that we had some opportunities in the first half that we really wanted to put away," Saurin said. "We had players in the right positions, we had some good decisions on passes, crosses that were made, and unfortunately we didn't put it in the back of the net."
That obviously didn't last.
Oakland plays at Florida Atlantic at 7 p.m. ET on Thursday, Sept. 8.