A peak year for Oakland swimming: Large senior class lines up for last hurrah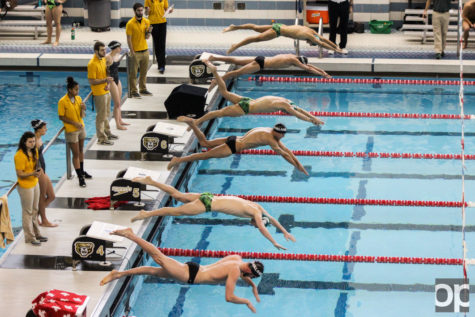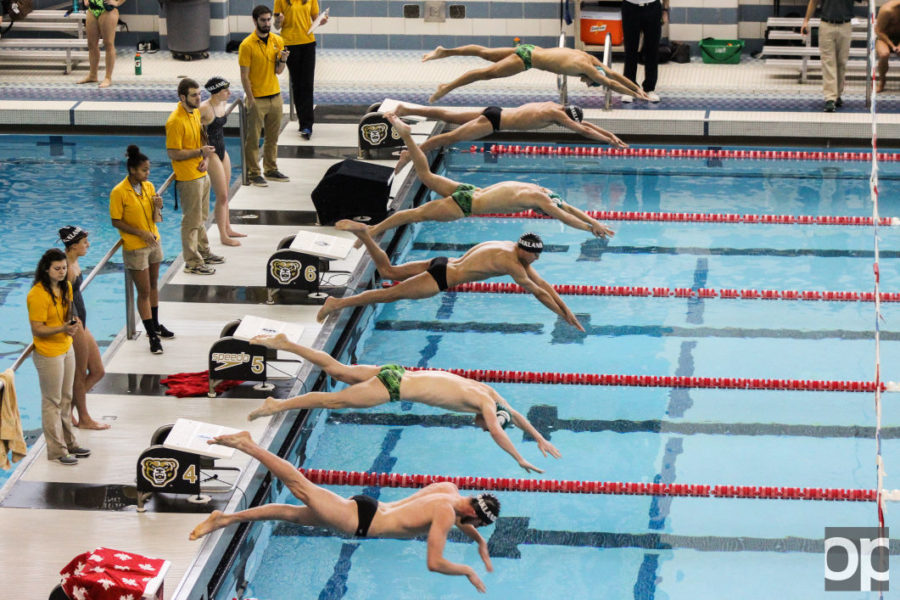 After a summer of Olympic trials, Oakland swimming and diving has the same task as ever: building and fortifying its multi-decade conference dynasty. They have some new help.
"I love it so far," said assistant coach Stacy Busack, who replaced former associate head coach Shawn Kornoelje.
There were a few swimmers training over the summer when she moved in.
"I had so many people show up to help unload [the truck] that I couldn't keep all of them busy," Busack said.
She didn't know much about Oakland before she saw the job posting, so she did as much research as she could — past meet results, a variety of articles, head coach Pete Hovland.
Busack called him a few days after seeing the ad to tell him she was interested. What had stood out to her was how consistent Oakland had performed in league championship meets. Plus, in the NCAA meet, the Golden Grizzly swimmers had raced faster.
"Only eight percent swim faster at NCAA's than in conference," Busack said.
But she saw something behind the times.
"Here's a great coach that's been in the game a long time, and has a system, and it works for him," Busack said. "There must be some culture of excellence there."
She wanted to learn more. So when she was on the phone, she asked a few questions.
"The more he talked about his philosophy and his approach to running the program, the more excited I got about it," Busack said.
Their mindsets meshed. Busack went through the interviews and got the job.
"Basically hit the ground running," she said. "Pete's schedule was pretty packed."
Hovland needed someone to take care of things when he was gone in the summer. She got a week and a half of observation before he left.
Busack set out building rapport with the athletes.
"Getting to know people takes a little bit of time, but they've been very open," she said. "It's been really smooth and as easy as I think it could be."
Busack wants Oakland to be at the top of the conference this year, something the program has managed to do well the last couple of decades, having won 38-straight league titles for the men's team and 23-straight for the women. Busack also wants to be a top-10 mid-major program in Division I.
There's something else:
"Build a bigger presence at NCAAs," Busack said. Depending on recruiting and the development of the current athletes, "we can definitely work toward sending more people to that meet" and rising among the mid-majors.
Busack is trying to meld her coaching style with Pete's. Nothing too out-there.  It's yet unknown whether she will make any big changes in Oakland swimming and diving. But one thing is clear: she knows the basis of the program.
"We're focused on helping people achieve their potential, but we're also focused on coaching the whole person," she said. "With being as well-aligned as we are, it's going to allow us to take really great care of the people on our team, and invest in ways you might not get everywhere."
She doesn't know everything Hovland does, but she'll try to contribute to the culture and raise the bar.
"I'm super-excited to have the opportunity to be at Oakland," Busack said.
Outlook
Busack had to do a phone interview because she was in Minneapolis coaching then-rising sophomore Devon Nowicki at a meet. The finals had been moved up, so she could watch a little bit of the Rio Olympics.
"He's going best times in nearly everything," Busack said. ""Last night for example, he dropped over four seconds in his 200 breaststroke."
He was disqualified in that race for using two dolphin kicks on a turn, but "he was still thrilled with his time," she said.
Nowicki is someone to watch out for this year and has been since he set foot on campus.
"He wants to be pushed," Busack said. "He's a real student of the sport."
But while Busack and Nowicki see the beginning, Hovland sees the horizon. Another year means more turnover.
"You lose a lot when someone graduates from the program," Hovland said.
It's bittersweet. They've grown, but they're gone.
"Graduating seniors are really hard to replace," he said. "A freshman class … just can't do it overnight."
The rising seniors are the ones you look to. Sometimes you'll get a freshman prodigy, but they'll initially contribute more in numbers than in leadership.
One of those rising seniors is Aleksander Danielewski, who was out from December 2015 on with a wrist injury. He missed the Horizon League Championship. Hovland suspects he's hungry. 
On the whole, last year's group of juniors was a good bunch, Hovland said.
"At the end of the conference championship next year you'll probably see me alongside the pool shedding a few tears because, on both the men and women's side, we're losing what could be two of our best senior classes in recent memory," he said. "That's going to be a hard, hard class to replace."
Oakland lost five seniors at the end of last season. This season they lose 16.
Case Study No.1: Rachel Waite, Takara Martin and Melissa VanderMeulen. They're the best breaststrokers on the women's team and the best women breaststrokers in the Horizon League, Hovland said. They're gone after this season.
Case Study No.2: Patricia Aschan, who was the Horizon League Women's Swimmer of the Year the past two seasons.
"She's our horse," Hovland said. "She's our superstar. We can ask her to do anything, and she's going to do it exceptionally well."
Thus is the complexity of Oakland's situation: The better the swimmers do — which is of course the goal — the worse it is when they leave. This is the cruel part of Newton's Third Law. It's going to be a tough February.