Sorority celebrates heritage, plans year of community service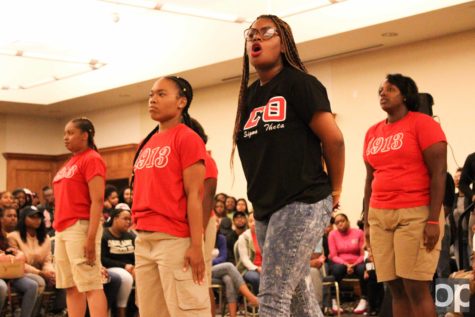 As a young and growing university, Oakland celebrates many firsts.
Members of Delta Sigma Theta recently remembered a first – on Dec. 20, 1980, the sorority became the first black sorority at Oakland. The group commemorated its history with a step and stroll performance presented in the banquet rooms of the Oakland Center on Thursday, Sept. 1.
This is the beginning of an active year for the group, whose main goal is community service. Delta Week will take place from Sept. 18 to Sept. 24 and will include a basketball game at the court near the Ann V. Nicholson Apartments. Oakland students are invited to play and asked to bring toiletries and nonperishable items as an entry fee. Proceeds will go toward Haven Women's shelter in Pontiac.
Other events will include international awareness day, professional development opportunities, and volunteering at Gleaners Food Bank.
Delta Sigma Theta works with HAVEN and Grace Centers of Hope, both in Pontiac, at least once a semester, said Adrian Williams, president and a senior studying nursing.
Oakland's chapter also collects school supplies for the Delta Sigma Theta Sorority Inc. Elementary School in Haiti, which was founded by the national chapter in 2013, according to the sorority's website. Oakland's chapter also collects school supplies for students in Pontiac.
More than 200,000 women nationally have joined the organization since its founding in 1913, according to the website.
"Delta Sigma Theta Sorority, Incorporated is an organization of college educated women committed to constructive development of its members and to public service with a primary focus on the Black community," according to the national chapter's mission statement.
Oakland's chapter currently has six members. The group was founded by African American students, but anyone can join.
For Williams, joining was a dream come true. When she was in sixth grade, her best friend's mother took her to volunteer events sponsored through the Delta Sigma Theta alumni chapter. She learned the value of community involvement and wanted to join.
"It was one of the best decisions I've made in college," she said. Williams plans on staying active after graduation through the alumni chapter.
Lexus Dorsey, secretary and a senior studying sociology, is proud to be a member of Delta Sigma Theta and has enjoyed getting to know her sisters. While each person in the sorority brings different experiences, everyone who joins is interested in being involved and making a difference in the world, she said. Members also learn to bond with each other and people outside of the sorority.
"You can learn things from all these different people," Dorsey said.
Women who are interested in joining should attend the chapter's events, Williams and Dorsey said.
For more information, find Oakland's chapter on Facebook, Twitter, Instagram or GrizzOrgs.
Update Sept. 8, 2016 at 4:05 p.m.: A previous version of this article erroneously stated that OU's chapter of Delta Sigma Theta was dormant for a year and a half. The sorority actually had one member during this period. Additionally, the previous version stated that the sorority is recruiting this year, which is not true. They do, however, encourage interested girls to attend their events.