Oakland among the first 20 in NCAA to offer CBS Gameday Live app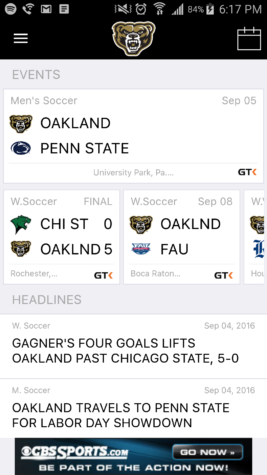 The Golden Grizzlies have joined the ranks of Georgia and Pitt and are offering the CBS Gameday Live app for free to Oakland sports fans on iOS or Android phones. Oakland is the first non-football school in the NCAA to do this.
The new app provides many of the features you can find on GoldenGrizzlies.com — you can check the Golden Grizzlies Twitter feed and find out how to buy tickets to the basketball home-opener all in the same application.
"To better serve our fans and student-athletes, we developed the Golden Grizzlies Live app," said Director of Athletics Jeff Konya in a Golden Grizzlies press release. "This provides easy and instant access to up-to-the-minute news and information. We understand that sports fans follow their teams on their smartphones and tablets, so it was important for our organization to provide that service with a first class product."
The app covers all sports. Here is a list of all the new features:
     Live and On-Demand streaming Audio & Video
     All the latest headlines from GoldenGrizzlies.com
     Follow along live with GameTracker scoring integration
     Complete sport schedules with access to all event-related content.
     Save, share and find your parking spot or tailgate location.
     Facebook, Instagram & Twitter integration
     Sport and venue-specific information, including seating & parking maps, directions and more
Enhanced Roster and Bios
Photo Galleries
Mobile Alerts and much, much more
"We continue to be on the frontline of intercollegiate athletics, becoming just one of sixteen programs to have this Gameday app," said Senior Associate AD Padraic McMeel in the press release. "This is an exciting time for Golden Grizzly fans and student-athletes, and we look forward to continuing to provide a first-class experience."