Grizz Night in Pontiac familiarizes Oakland with neighbors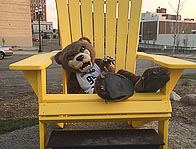 Welcome week is in full swing, and on Sept. 8 the festivities continue with Grizz Night in downtown Pontiac.
It will run from 5 to 10 p.m. along the entire length of Saginaw Avenue and surrounding streets.
Grizz Night is part of Oakland University's Pontiac Initiative that was developed by President Hynd.
The event began as a pilot program in April and was the brainchild of Gabriela Sullen and Branden Dyer, two AmeriCorps VISTA members who served at OU. The goal was to bridge the gap between OU students and Pontiac, where people could walk around and experience all that the city has to offer.
There won't be a shortage of things to do. One main event is the "Battle of the DJ's" at 8 p.m., where two famous OU DJ's will fight it out at the Crofoot. WXOU Radio will also have its famous Record Swap at The Living Room Lounge.
Students can also work on their downward dog poses with Yoga at the Park held by the #BigYellowChair.
In addition, countless local businesses will be open with special activities, like Kickboxing on the Sidewalk at Smash Hit Kickboxing, tennis lessons and karaoke at the Pontiac Public Library, and various games and coffee at Alley Cat.
While at Grizz Night, check out all of Pontiac's art groups at Pontiac's Little Art Theatre, and E & K Arts will have art and fashion displays. There will also be an OU keychain making at Mad Cow Leather.
For those more adventurous, there is the Erebus Escape Room. Players are locked into a themed room and have 60 minutes to work as a team, solving puzzles in order to escape, according to their website.
After working up an appetite, grab delicious sandwiches at Lafayette Market and refreshing smoothies at Anytime Fitness, or check out the pop-up diners at The Menagerie.
Buckner's Dessert Café will also have movies in the park, complete with s'mores.
If you can't make it out, don't worry; experience the event vicariously through the WXOU Radio station, who will be broadcasting live.
Oakland University's Center for Student Activities collaborated with the individuals and businesses of the OU Pontiac Initiative to put it on.
Director of the CSA Jean Ann Miller is thrilled about the event.
"The City of Pontiac is going through a 'renaissance' these past two years and OU has been a contributing part of it," she said. "'Back in the day,' OU students used to spend their time in the City of Pontiac with the social venues that used to exist downtown. There are new opportunities to discover about Pontiac, our 'neighboring' community to the west. Not just social, but cultural and educational too."
Miller is aware of how important these types of events are to locals.
"It connect us with a community that has so much to offer our OU students, faculty, staff, and alumni. Plus, there are lots of networking opportunities that can lead to internships and employment for the future."
There will be Bear Bus transportation to and from Hamlin Circle, as well as free SMART bus trips to and from the OU Traffic Circle, running the entire duration of the event. There will also be free student parking downtown.
Contact the #GrizzNight street team with any questions through Jean Ann Miller at (248) 464-1975 or Christian Marcillo at (248) 961-6433.