How will construction affect student life?
Students who have classes in the Engineering Center, Elliott Hall or Varner Hall may run into some construction this semester. The road east of the P-32 parking structure is set to be closed for the rest of the academic year, while Oakland University continues preparations on a new housing structure.
The new dorm is significant, as will ensure that less students will be living in overflow housing areas like the Extended Stay America hotel. Equipping more housing helps transition OU from a commuter school into a university that embraces on-campus life.
Creating additional parking spaces will allow commuters to get to class faster without spending additional time searching for a parking spot. The renovations over the Bear Lake bridge have made it safer.
Construction on campus brings about change and growth, but not without impacting the students.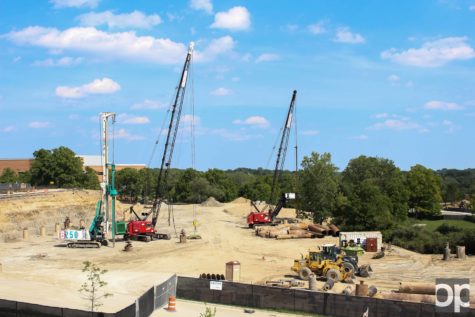 "When I moved into the dorm in fall of 2011, I lived in West Vandenberg on the seventh floor," said Sarah Bacon, an OU alumna. "Every morning, [there was] construction in building HHB [Human Health Building]. It annoyed me."
When Bacon started commuting, construction near OU made her tardy for class. Still, Bacon was glad OU was doing construction.
"If [OU wasn't] building new things, I'd be a little mad," Bacon said.
Carolyn Johnson, manager of the Facilities Management business office, also voiced enthusiasm for projects on campus.
"There's always tweaking that needs to be done after people get in there. But, for the most part, I would say yes [people are happy with the results]," Johnson said.
Johnson is excited for the new housing structure.
"For a long time, OU was a commuter school. And now we have students on campus. It's great!" she said.
The construction that occasionally happens on I-75, Squirrel Road and Walton Boulevard can be aggravating, but it makes driving a safer experience in the future. Construction may wake up residents on campus or force people to take a different road. But, the end result does make OU better.
There will be construction near I-75 near Coolidge in September and there will be a road closed near the Engineering Center. Until these projects are completed, do your best to leave early and get to class on time.
There is a lot to look forward to. Additions to the Oakland Center and more housing are on the way. There wasn't always an Elliott Clock Tower. Out of these construction projects may come the next great structure for the next batch of students.