Women's soccer splits home exhibition games against EMU and Fort Wayne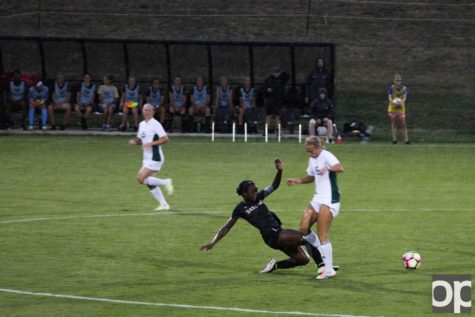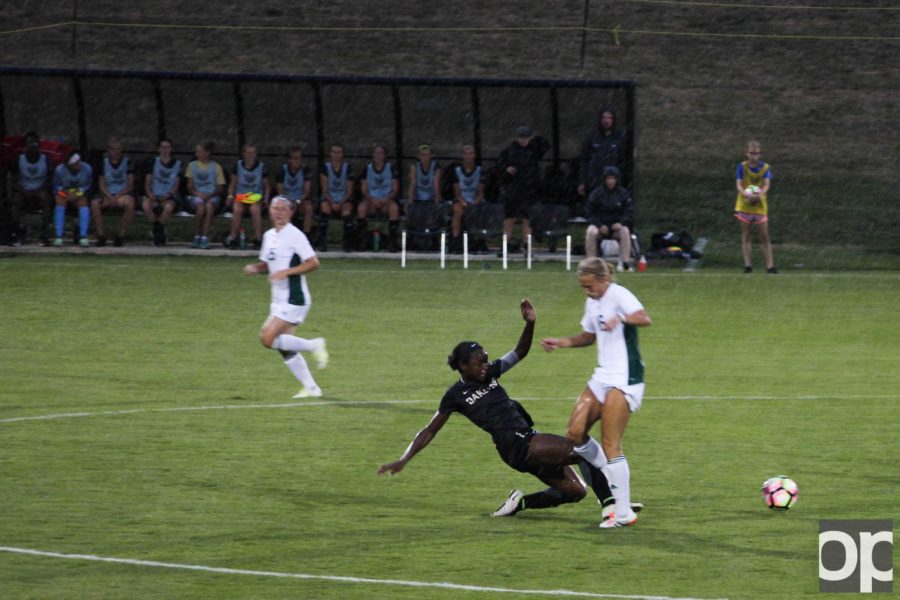 Oakland's women's soccer lost 3-1 Eastern Michigan University on Friday, Aug. 12, and beat Fort Wayne 3-1 on Sunday, Aug. 14.
The two exhibition games gave fans, players and coaches an opportunity to see where the Golden Grizzlies were at before the regular started.
The Golden Grizzlies played six of the seven freshmen in the two games. Head coach Margaret Saurin said these games were going to be used to introduce the new players and give them experience they need to play at this level.
They did. Three of the freshmen were able to get on the scoresheet. Midfielder Taylor Thalheimer tallied an assist  against Fort Wayne, forward Katelyn Winkowski scored against EMU and freshman goalkeeper Sophia Braun made a save and allowed a goal against Fort Wayne.
EMU
Oakland lost to EMU in a washout. The game was rain-delayed for 30 minutes and moved to the Oakland Sports Bubble.
The Golden Grizzlies controlled the game early. However, in the 24th minute EMU scored first when a loose ball popped up in front of Oakland's goal and the Eagles took advantage. EMU 1-0.
Not long after the first goal, play between the two teams had to be suspended for 30 minutes because of the weather. Fans and players were unsure if they would continue the game until they started play in the dome.
"Yeah I think everyone is a little wet for sure. It's hard mentally to kind of go from outside and to come in here," said senior Aly Rawson. "Nobody was even sure whether or not we were for sure kicking off in here, whether we were going back out."
The first half finished in the dome with an EMU up 1-0.
EMU scored off a bad deflection at the 54th minute, which gave them a 2-0 lead over Oakland.
Oakland finally got on the scoreboard in the 80th minute when Freshman Katelyn Wilkowski shot the ball from the top of the box and over the EMU goalie's hands. Oakland down 2-1.
EMU would score one more time which gave them an 3-1 lead and sealed the deal.
Fort Wayne
Oakland won the final exhibition game 3-1 against Fort Wayne.
"[I'm] happy with today's performance and happy to get a win and score multiple goals in a game," Saurin said in the postgame interview for GrizzVision. "I feel like we have improved from Friday's night game, and said on Friday night after the game that we wanted to be more clinical in the final third, get more shots off and create more, and we did that today."
Oakland scored first at the 23rd minute when freshman Taylor Thalheimer assisted sophomore Sydnye Gagner, who gave Oakland a 1-0 lead.
Fort Wayne scored on themselves in the 69th minute, giving Oakland a 2-0 lead.
But Fort Wayne would not go away. The Mastodons scored minutes later during the 72nd minute, closing Oakland's lead down to one.
Sydnye Gagner then scored her second goal of the day when she stole the ball from Fort Wayne's goalie and put it up and over her.
The Golden Grizzlies dominated the game at both ends. They had 18 shots, ten of which were on goal. They allowed ten shots with only three being on goal.
Oakland ended its preseason with one win and one loss.