Bridge renovations set to be completed by fall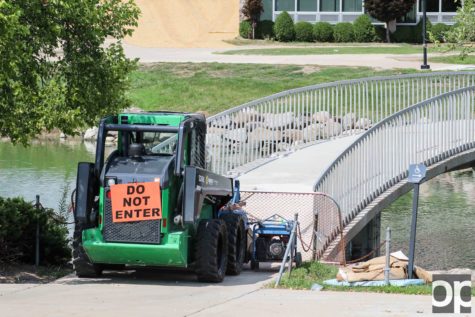 This fall, expect to see renovations to the pedestrian bridge over Bear Lake.
Renovations are being completed before classes begin on Sept. 1.
Each spring, Facilities Management assesses sidewalk and bridge conditions on campus.
"Based on deterioration, trip hazards and wear condition of the surfaces we prioritize the need for repair or replacement," said Terry Stollsteimer, associate vice president for Facilities Management. "The bridge was added to the list and the work is being done before school starts Sept. 1, 2016."
The bridge renovations will address any tripping hazards or unsafe conditions.
"The repairs being made to the Bear Lake pedestrian bridge over the next couple of weeks will be focused on fixing the walking surface where needed and to make sure there are no tripping hazards on the bridge as we move toward the start of the fall semester," said Director of Media Relations Brian Bierley.
In the spring, repairs are prioritized and assessed to be completed throughout the year.
Construction will be completed by outside contractors.  Funds for the bridge renovation are included within the Facilities Management repair budget, which is found within the General Fund.
"The approval is reviewed and approved by The Associate VP of Facilities Management [sic]," Stollsteimer wrote in an email.  "We do the same thing for a roads and parking lots [sic]."
Beyond renovations, the new bridge will be reviewed for safety before being opened to the public.
"We will also inspect the bridge in its entirety to assure its overall safety and consider if any future work might be needed," Bierley said.
Keep your eye out for this and other renovations around campus in the upcoming fall semester.