Men's soccer grinds out 1-0 exhibition win against No.2 Akron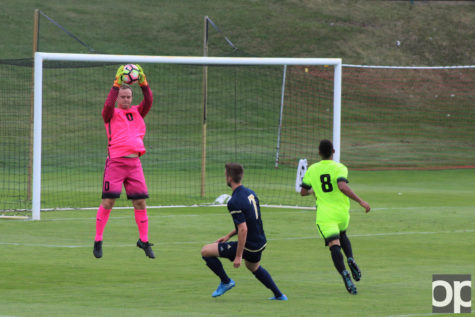 Something strange happened Monday night. Oakland — a team in transition after losing eight seniors — beat the preseason-No.2 Akron Zips 1-0 in an exhibition match on the Oakland Soccer Field.
Austin Ricci scored the night's sole goal in the 37th minute. He took advantage of an Akron pass that wasn't picked up well.
"I just ran up to him, got it off him, worked through the pressure and finished it," Ricci said.
The goal was from about 13 yards out on the left side.
But that play was the exception in this game. Akron mostly controlled the ball; the Zips attempted 11 shots compared to Oakland's five and got 10 corners to Oakland's four. Five of the Zips' shots were off target. Oakland goalie Zach Walker, who played all 90 minutes (Akron switched at the half), made one save.
The X-factor was the Oakland defense. Junior transfer Wilfred Williams made two open-goal saves.
Part of the mad back line was 5-foot-6, 125-pound freshman AJ Shaw.
"I just wanted to come out here and show Akron what we got," he said. "We're a smaller school, and they were like oh, well we can take these guys any day. But you know what, this shows that we can play with anybody, and we can beat anybody any day."
Shaw has three years left to keep proving that.
"I expect a couple more rings, at least," he said. "I'm just looking forward to playing and repping this school."
Endurance was a theme Monday night.
"We played on Saturday," Oakland head coach Eric Pogue said. "They didn't play at all. They played a whole different group in the second half, a whole fresh 11."
Oakland knew they were going to have to defend. They were playing Akron, after all.
"Sometimes the game's not pretty, but the scoreboard's pretty," Pogue said. "It was good for us as a team to have to fight our way through that."
Ricci then showed what he could do, and they took it, Pogue said.
The players reported for training on August 10.
"It's only five or six days [in]," Pogue said. "We'll take the good, we'll take the bad, and we'll start translating it because we turn around in a couple of days and play Indiana," who is preseason No.14.
You'd rather get your baptism by fire sooner than later, he said.
When the players reported, "they were eager, they were excited," Pogue said. "Were we in the best shape? No. … It's a struggle for younger players to get significant playing time in the summertime. … We play ourselves into shape."
Oakland came into this game off a 3-1 exhibition loss at Bowling Green on Saturday, August 13.
The Golden Grizzlies play Indiana at 7:30 p.m. ET on Thursday, August 18.