MTD students perform first production of the year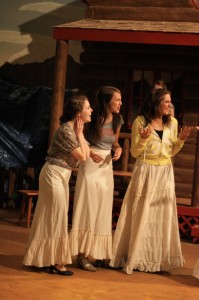 By Kevin Romanchik
September 27, 2011
The Oakland University Theatre department will be performing the musical Little Mary Sunshine as their first main stage production of the year.
Tickets are on sale now at the Varner box office and the performance will run nine times from Oct. 6 through 16. All performances will be at Varner Studio Theatre.
This Thursday, Sept. 29 at the Student Showcase, characters the Forest Rangers and Madame Ernestine von Liebedich will be performing two musical numbers as a teaser for opening night.
The production will be the first theatre production for Thursday-Arts-After-Work on Oct. 13 at 6:00 p.m. and has a "pay what you wish fee."
"It's always a little nerve racking for the first performance of the year," Kaitlyn Hahn, a junior majoring in musical theatre, said. "I'm very excited for this production."
Filled with slapstick humor, the production is set at the turn of the twentieth century in which Mary Sunshine, being performed by Hahn, is being threatened of foreclosure on her Colorado Inn in the high Rocky Mountains. While Captain "Big Jim" Warington and the Forest Rangers are dealing with the disruptive, villainous American Indian Yellow Feather.
Professor Thomas Suda, director of Little Miss Mary Sunshine, has been teaching at OU for 20 years and has been directing for 15 years.
"Thirty-seven years ago I was in the show as an undergraduate," Suda said. "I'm very familiar with the play."
Suda wanted to try to keep it as true to the original production as possible.
Instead of having an orchestra to accompany the singers, they are having two twin pianos being played, as it was originally written.
"I wanted to keep it as real as I could and went back to the original play, Suda said.
In the original script, written by Rick Besoyen in 1959, the language of the American Indians was fictitious and received many complaints about the political correctness of it. They re-did the American Indian vernacular to be actual American Indian language based on the legitimate language of the Lakota tribe.
Actors portraying an American Indian had to learn how to speak the Lakota language and how to sound authentic doing so.
"It is a little difficult to learn," Evan Heuker, a junior majoring in musical theatre, said. "We went through the sound-it-out process, but when it's worked out with the cast, it's understood what is being said."
This musical production is a spoof of old-fashioned operettas and musicals, mainly from the early 1900sIt combines the classical qualities of an opera with traditions of new musical theatre.
"I've been in a few musicals that are pretty serious," Jake Wood, also a junior majoring in musical theatre, said. "This is only the second one I've been in that's really fun and light. I think people will really like it."
With a wide range of characters and many important details on stage and off, the theatre department is anxious to bring the humorous and lighthearted musical to the audience.