Detroit's talent gets 'creative'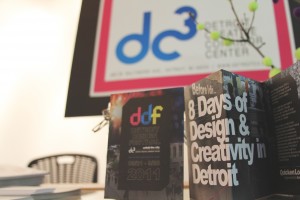 By Kevin Romanchik
September 27, 2011
The talent of Detroit's youthful creative community sometimes goes unnoticed, so the goal of the annual Detroit Design Festival (DDF) is to showcase the many forms of art and artists within the greater Detroit area.
Various venues and public spaces across the city of Detroit held events between Sept. 21-28.
"The festival showcases graphic designers, illustrators, product designers, and interior designers," Melinda Anderson, festival director, said. "So there are all types of design professionals that are putting their skills on display."
The Detroit Creative Corridor Center (DC3), an organization located on the campus of the College for Creative Studies, created the event.
"After reviewing other festivals around the world  like the London Design Festival and Design Philadelphia, the question become obvious, 'Why does Detroit not have a design festival?,'" Jakki Kirouac, program coordinator and  Oakland University alumni, said. "With the parameters set, Melinda and I began crowd-sourcing the community to find out what Detroit design practitioners wanted to see happen at our inaugural festival."
According to Kirouac, the Detroit Design Festival started off as a collection of 15 to 20 events, but after word started to spread, quickly turned into 85 design exhibitions and events around the city.
This year's DDF included everything from live performances and screenings to fashion shows and eloquent dinners.
"We have so much talent (in Detroit); there is literally a burst of creativity in the city right now at all levels of creative fuse," Simone Desousa, Re-View gallery owner, said.
The Nick Speed Orchestra, a musical exhibition featuring a fusion of hip-hop, techno, and Motown, showed off their talents through live art.
"There was a person painting a portrait in the back, a live DJ, and ballet dancers in the front," Nick Speed of Nick Speed Orchestra said. "I just wanted to bring all different types of talented people into the spotlight."
Artists like Speed are given an opportunity to gain popularity and fans through their connection to the DDF.
"At the end of my performance, all the fans kept screaming 'encore!' It was a magical moment," he said. "So many people came up to me after to tell me what a great show it was and how they had an incredible time. That was the theme of the show—to give fans a great show and a great party while blending all these perspectives together."
Not only does DDF allow the artists to get recognition for their work, but they may also get future job opportunities.
"I hope that people go away from an event and say, number one, 'Wow, I didn't know that there was so much talent here (in Detroit),' and number two, 'I'm going to want to work with that person in the future,'" Anderson said.
In Speed's case, this recognition happened right away.
"I really gained a good relationship with my sponsor, Live Nation," he said. "It was really cool to see my sponsor out in the crowd loving and show just as much as the fans. I got a call the next day from the people who organize Funk Night, which is a party for young people the last Friday of every month."
But, the main goal of the DDF is to celebrate the arts of Detroit.
"The (DDF) is really a celebration of everything that is going on in the city, which is so much that even people who live in the city are not even exposed to everything because there is so much to see. So the festival allows people to get a sampler of all the different types of design," Desousa said.
The DDF crams all the talent, art,and creativity within the city of Detroit into a week-long festival, but in hopes that viewers will take a part of what they see with them as inspiration or as an incentive to pursue becoming an artist in the future.