African art exhibit opens OU gallery season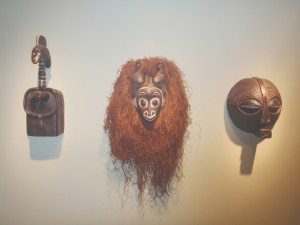 By Kevin Romanchik
October 4, 2011
The Oakland University Art Gallery is currently showing "Multiplicity, Connection and Divergence: African Art from the John F. Korachis Collection" so students, faculty and guests have opportunities to experience a distinct form of art and culture.
The collection can be viewed now through Nov. 10, Tuesday through Sunday from noon to 5 p.m.
The exhibits gets its unique edge with personal statements, one presented with each piece.
Andrea Eis, curator of the exhibit asked members of the OU community, professors included, to talk about a piece of art through the eyes of their own discipline.
These reflections are all different, depending on how the piece was interpreted by each person.
"From neuroscience, to history, to sociology, each discipline offers a new way of seeing the works of art," said Annette Gilson, associate professor of English.
While writing her statement, Gilson imagined the personal feeling of the African animal.
"I imagined putting on the headdress and feeling the weight of it changing how I moved, and I pictured changing the way I walked," Gilson said. "I tried to imagine the things that were important to an antelope, how connecting with those things could open up my human view of the world."
Lizabeth A. Barclay, professor of management, chose to write a statement on Ibeji, Twin Statuettes.
"I selected an object that spoke to me," Barclay said. "My statement for the show captures my reasoning and inspiration."
Through writing about their own personal observations, the professors were also able to attain experience and knowledge.
"The professors who wrote labels for the artworks responded based on what they knew in their own fields of study," Andrea Eis, associate professor of art and chairperson for the department, said. "But to do that, they had to take the time to really look at the art, to appreciate its qualities, to connect with it, to think about what it meant."
Eis hopes that this connection will pass on to the viewers when they read each professors' remarks.
"(The professors) had a richer experience, and gained a deeper awareness of the art. I hope this approach encourages exhibition viewers to do that as well, and to gain an appreciation of the African artists who created such compelling and powerful art."
Eis also took pleasure in other aspects of constructing the collection.
"I also really enjoyed designing the visual aspects of the exhibition itself, placing the pieces, creating a flow around the gallery to encourage people to look closely at the art," Eis said. "Choosing colors for the gallery walls to alter the feeling of the space, make it feel a little warmer."
OU's Art Gallery offers exhibits year-round. Upcoming events include "Senior Thesis in Studio Art Exhibition I," from Dec. 2-18, "Idealizing the Imaginary: Invention and Illusion in Contemporary Painting," from Jan. 14 through April 1, and "Senior Thesis in Studio Art Exhibition II" from April 13 through May 13.