Men's soccer draws record setting crowd in 0-0 tie vs. Michigan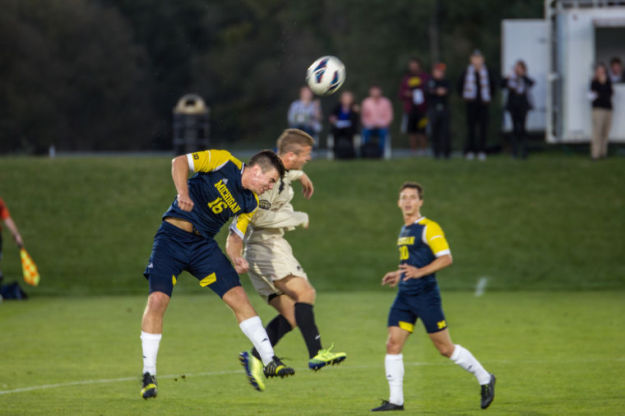 Matthew Saulino
September 29, 2013
OU (2-2-4) took Michigan (2-2-3) to a double overtime draw in front of a record setting crowd last Tuesday.
There were 1,637 fans in attendance, not including spectators watching from OU's parking structure that overlooks the field.
"It's easy to get up for these types of games," Grizzly head coach Eric Pogue said.
Although ending in a draw, the game wasn't short of scoring chances, especially those coming off the foot of sophomore forward Shawn Claud Lawson.
"Our forwards did the best they could," Lawson said. "They (U-M's defense) were solid back there, but I want to get the ball in the back of the net."
However, the shutout was not from a lack of effort — Lawson had a game high five shots, three of which were on net.
On a cross from senior midfielder Mich'ele Lipari, Lawson managed to head it through the defense only to be stopped by U-M goalie Adam Grinwis.
Another attempt screamed off of Lawson's foot curving just outside of the net. It would have been out of Grinwis' reach had the ball been a little more inside. 
Another great opportunity presented itself with only moments to go in the game as sophomore midfielder Matt Dudley had a shot bounce off a Michigan defender and sail just over the crossbar, an attempt that drew an anxious sigh from the crowd.
OU senior goalie Sean Lewis delivered his third consecutive shutout in the tie, and had a remarkable save in the second half. Lewis left his feet, diving to his right to block a bending shot by U-M senior Fabio Pereira. Lewis ended the match with five saves, but none more stunning than that.
The game grew more intense in the overtime periods, as both teams had their chances on what seemed like counter-attack after counter-attack. There was a noticeable rise in physical play in the overtime periods, where all four yellow cards were issued — two on each side.
Men's soccer takes to the road to play Cleveland State this Saturday in their second Horizon League match of the season. The Grizzlies will return home Oct. 5to square off against University of Detroit Mercy.