Humm's return lifts OU volleyball to 3-1 victory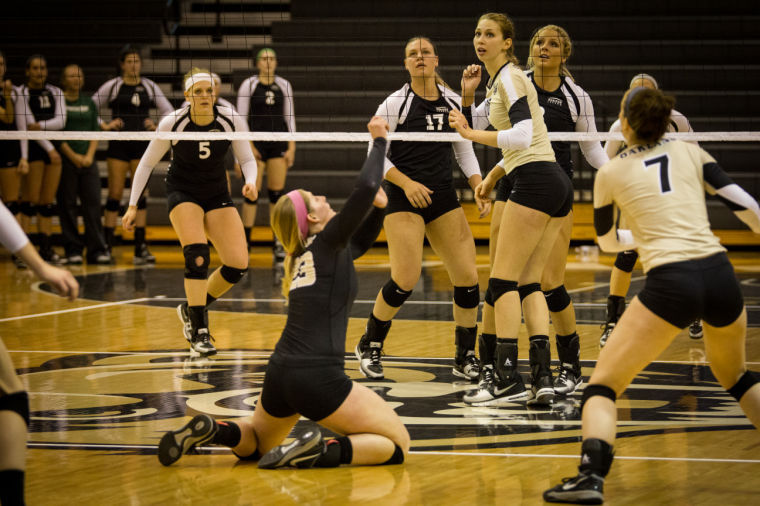 Matthew Saulino
October 28, 2013
Oakland University (10-13, 4-4) hosted the Green Bay Phoenix (9-12, 4-4) Friday, Oct. 25, and won the match in four sets at the O'rena. The sets were scored 25-22, 25-21, 23-25 and 25-20.
Junior Taylor Humm was in an unfamiliar role Friday night as she suited up as libero for the Golden Grizzlies, holding her own to the tune of 21 digs.
"I've never played libero," Humm said. "When I was given the opportunity, I was going to take the role to help our team win."
The libero position is considered a defensive specialist who is usually in charge of digs on services to set up the offensive attack. Liberos also wear a different colored jersey.
Taylor had sat out the previous few games due to injury, and the Grizzlies had a hard time coping without her.
"It really humbled me because I was taking playing for granted," Humm said. "And to see every single day how hard my teammates work makes me love them undyingly. We're sisters in the end, it doesn't matter whether or not you play, but in the end it's how close you are to each other."
The veteran Humm was second to the Phoenix's Jillian Bauer in digs, but still shined for her team in the victory.
"Taylor brings some experience," head coach Rob Beam said. "She's been on the floor for two years as a starter, and although she's never played libero before, she has all the skills to do it. And I was glad she could come out and put a great performance on."
Three players made it into double-digit kills for the Grizzlies. Jessica Dodd had 12 while Cassie Pelloni and Amanda Baker added 13, with Baker's last kill being the game winner.
"I just tried to focus on always trying to get the next kill," Baker said. "When I got blocked a couple times, I tried to let that fuel me for my next kill.
"My setter Ciara (Schultz) said she was going to try and get me the next kill, and she set it up, and it turned out to be the game winner."
Schultz had a team high 24 assists and teammate Alissa Valentine added 21 more. 
The Grizzlies moved into fourth in the conference with the victory, and the team is looking to continue the climb.
"I think this is a confidence building win for us, we played very well against a strong opponent," Beam said.
The previous game against Green Bay was not as fulfilling for Beam's squad, as the Grizzlies dropped the final three sets after winning the first two.
The team's performance Friday ensured the outcome wouldn't end with similar heartbreak.
"I think we did a great job serving, passing," Beam said. "And then our setters did a great job running a balanced offense, as well as our hitters producing points. I thought it was a really good effort."