OU volleyball falls to Bowling Green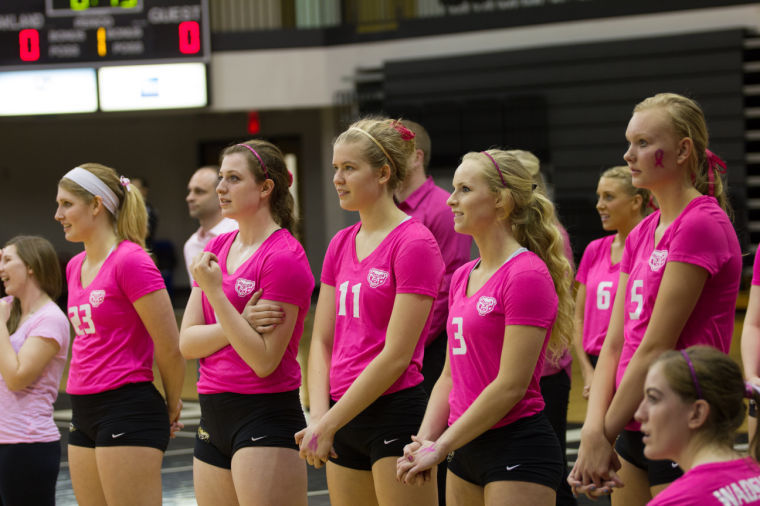 Matthew Saulino
October 20, 2013
Oakland University (8-12, 2-3) lost in straight sets, 3-0, to Bowling Green University (9-9, 5-1) Oct. 15 on the program's annual breast cancer awareness night.
The O'rena's floor donned pink lines and the players wore pink uniforms to match, but the outcome wasn't as decorated for OU.
The Falcons proved to be too much, winning the sets 25-20, 25-20 and 25-14.
"They have an entire starting lineup returning from a year ago," head coach Rod Beam said. "I thought Bowling Green looked really focused, and we looked unfocused."
The Falcons had four players with eight or more kills. The Golden Grizzlies failed to have one player with more than five and was leveled in that category 43-26.
OU freshman Breann Reveley had four kills in the game's final set, at one point scoring three consecutive points for the Grizzlies.
"I just try to stay positive and play with a lot of energy, and think positive energy can carry over to my team," Reveley said. "From the sideline to the court, to the fans, that energy can give our team a lot of power."
The Grizzlies started out strong against the Falcons, having an 8-2 lead in the first 10 points of the first set. But after that, it was all Bowling Green.
"They came in wanting to play and wanting to beat us, and we struggled a little bit. They definitely held their own today," Reveley said.
The Falcons led the majority of the match, looking better after each set and they didn't let up.
"I think we have to make some corrections, and do a better job of mental preparation to play a match like this," Beam said.
OU star player Taylor Humm has been out the last few games due to injury, and the Grizzlies could have used her help tonight.
"Taylor brings a lot to the game, she's a great six rotation player," Beam said. "She does a good job blocking and attacking, while remaining key in our ball control."
"I don't think that's as much where we fell behind. I think it's all mental for our team, and the Falcons really controlled the focus and mentality of the match," Beam said.
Women's volleyball returns home Oct. 25 to play Green Bay at 7 p.m., then again the next day against Milwaukee at 4 p.m. with the team only having seven regular season games remaining on their schedule.