Oakland University defeats Lake Superior State 88-62 in exhibition finale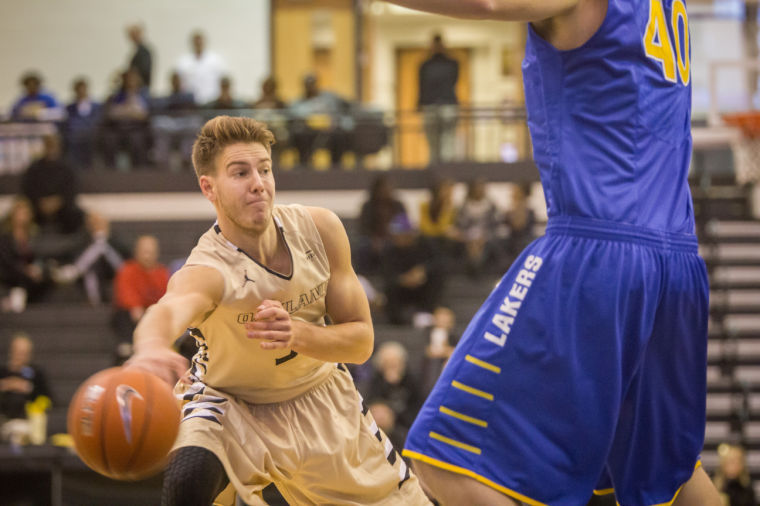 David Cesefske
November 4, 2013
The Oakland University men's basketball team defeated Lake Superior State 88-62 to wrap up their exhibition season, finishing 2-0 Sunday, Nov. 3. The Grizzlies were led by Travis Bader's 21 points as well as Corey Petros, who chipped in 20 to go along with six rebounds.
The score remained close going into halftime at 31-38, but OU shot 64 percent in the second half to pull away from the Lakers for good. The Grizzlies battled through a turnover-ridden game, committing 17 giveaways that led to 12 Lake Superior points.
Bader attributed the slow start to the team's fast-paced style.
"We had the same game plan, obviously we want to take care of the ball a little bit better, but we're a fast-paced team and with that comes a couple of turnovers," Bader said. "Especially when you have Kahlil (Felder) who's a freshman and only has one game under his belt trying to make plays for us, so we're more understanding with things."
The Grizzlies bench outscored Lake Superior State 21-6 with strong contributions from junior forward, Dante Williams, and sophomore guard, Mitch Baenziger, both of whom had 7 points apiece.
"Mitch Baenziger's going to win a game for us at some point, I like that kid a lot," Kampe said. "He's had a great camp, great fall.
"Once he gets the nerves out and relaxes and plays like he does in practice as he did in the last few minutes tonight, I think you're going to see something. He made two really nice moves to the basket and finished."
OU has been battling injuries, but managed to put together a gutsy performance against an experienced Lake Superior State team. The Lakers' starting five consists of all upperclassmen.
Kampe ascribes to the "next man up" adage, as tired as the phrase may be.
"It says Oakland on the front of the shirt," Kampe said. "I know that's cliché. I said the next man up is cliché, but it's true, the next man up. Injuries are part of the game and we've had more than our share, hopefully we can't get anymore."
Oakland will open the regular season on Friday, Nov. 8 against North Carolina, with tip-off slated for 9 p.m. The game will be covered on OU's flagship station WDFN-AM (1130).