Jean Ann Miller receives 2020 George Wibby Award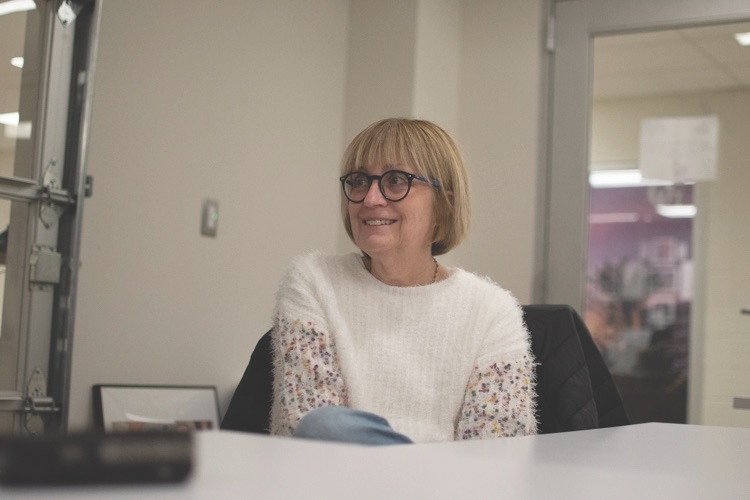 A familiar face on campus just received a prestigious honor for her contributions and commitment to the Oakland University community. 
Jean Ann Miller, senior director of the Office for Student Involvement (OSI), was recently announced as the 2020 recipient of the Athletics department's George Wibby Award. Named after a former OU swimming and diving official and golf coach at Katke-Cousins Golf Course, the award is presented to a university employee who "exemplifies [Wibby's] spirit and devotion to Oakland, as well as his compassion and care for those around him," according to a press release from OU Athletics. 
Miller accepted the award Friday, Jan. 24, during which she was also inducted into the Lepley Hall of Honor. The 2020 class of inductees is the first in four years and includes 17 former student athletes and staff, as well as the George Wibby Award and Oakland Athletics Community Service Award recipients.
This year's class of honorees also includes former athletics trainer Tom Ford, who worked for Athletics for 30 years before retiring in 2017 after being diagnosed with Amyotrophic Lateral Sclerosis (ALS), commonly known as Lou Gehrig's Disease.
"[I was] shocked," Miller said. "Just to be recognized in that kind of way, knowing how many other individuals on campus and off campus are massive supporters of the athletic department as well … it's very humbling." 
Miller has a long history with OU. After graduating in 1977 with a bachelor's degree in psychology, she pursued a master's degree in social work at the University of Michigan before returning to OU to work for Housing. Since then, she has worked on campus for more than 30 years. She said OU became — and continues to be — her "home away from home." Her time as an undergraduate student here influenced her so much that she decided to come back and return the favor.
"Everybody is just so nice and kind and embracing [at OU]," she said. "I just want to make sure that I'm giving back and doing the same thing."
In 2015, Miller donated $25,000 as part of the All University Fund Drive. The funds were spread out over the course of five years and intended for specific organizations, which included men's and women's basketball.
"My heart and soul is really affiliated with basketball," she said. "I was a big advocate for women's sports, and women's basketball in particular because I really just want to make sure that they're equally recognized."
Miller, who is a season ticketholder for both the men's and women's basketball teams, is vocal about her passion for gender equality in athletics and expressed hopes that this would be the case with the university's recently announced varsity esports program as well.
She takes her role as an advocate for students seriously, even when it puts her in difficult situations.
"When somebody's struggling and they need a listening ear … in the classroom, outside of the classroom … that's extremely important to me that they know that they have somebody that's on their side," she said. "That's the social worker/counselor side of me." 
According to Miller, one of the joys of her job is her ability to promote school spirit and campus involvement, which she said not only assists with student retention, but also enhances the overall college experience.  
"You can't be a student 24 hours a day," she said. "Really take advantage of every opportunity that is given to you, or seek it out."
In reflecting on the work she's done at OU so far, Miller said some of her fondest memories include meeting celebrities and traveling with the men's basketball team to the NCAA tournament on a 34-hour-long bus ride.  
But more than anything, she expressed her gratitude for the time she's spent working with students, from the resident assistants she worked with at the beginning of her career to the student leaders she works with now.  
"I really love OU, and hopefully everything that I've done in my life — from being a student all the way through to when I retire — made a difference," she said. "But I want it to be a humbling difference."