America's got OU talent that's buzzworthy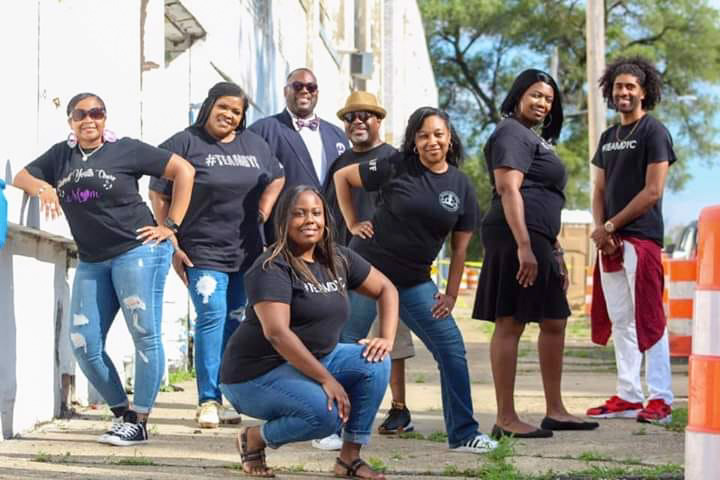 Detroit native British NiCole Burnett didn't expect to meet a man that would impact her life in her husband's barber shop.
However, life can be surprising in the way it unfolds, and Burnett found herself as a new vocal coach of the Detroit Youth Choir (DYC) since she met Anthony White in 2017, the man who has taken talented kids from Detroit to a golden-buzzer-worthy audition on "America's Got Talent" ("AGT") this year.
Burnett came to Oakland University after graduating from high school. However, she didn't know what she planned on studying, so after two years, she left OU and began working.
At an anniversary celebration at her workplace, she was asked to sing "Black Butterfly," a song by Deniece Williams. Burnett's voice left her coworkers in tears, and a respected coworker, who she considered to be a mentor, pushed her to take her talents to the next level. So, Burnett found herself back at OU, studying music education.
Upon her graduation in 2006, Burnett taught music at various schools in the metro Detroit area and performed in plays, including "Perilous Times," a play by TJ Hemphill. She made connections through participation in plays that allowed her work in music, so when she met White, the longtime director of the DYC, she was offered a position as a vocal coach.
"Anthony White and [my husband] go to the same barber," Burnett said. "So we met, and I had already been following Detroit Youth Choir. I saw them on the news, I saw a lot of things they were doing and I really admired what [White] was doing. But, this was from a distance of seeing them on TV. I really wanted to work with them. When I met [White], … he said, 'I've heard of you. I heard you were good at vocal coaching.' So, we started making arrangements for me to join the team."
Now at the DYC, Burnett does warm-ups with the choir, helps kids overcome voice challenges individually and in group settings, and gives suggestions to White on the production of the choir in regards to vocals. Burnett and the vocal coaches that direct the group share the responsibility of teaching different songs to the choir in preparation for concerts.
After contributing to the success of the group, seeing the children on a national platform receiving the highest compliment of the golden buzzer left Burnett at a loss for words.
"I heard about it before I saw it," Burnett said. "Mr. White called me, and he told me that they got the golden buzzer, and I was speechless. My heart was filled with an overwhelming amazement, joy, relief, gladness. It was just an overwhelming feeling because these children have done something monumental … We know how moved and inspired they make us feel when we hear them sing, but to make America feel that way, too."
Host Terry Crews' and the judges of "America's Got Talent's" approval and admiration of the DYC was extremely empowering for the kids.
"We took them to the audition just for the experience," Burnett said. "They went and knocked it out of the ballpark. It was just a very good thing to see that the same beauty, the same awesomeness, the way we often say, 'You guys don't understand the power that you have,' to witness them prove it to themselves was a beautiful thing."
But here's the million dollar question: What will Mr. White and the DYC do with the prize money if they win "AGT"?
"There are two things that are very important," Burnett said. "Education for the kids — whether they put it away in a stipend or find another way to have it ready — it is important they have resources for when they go to college. It is important to ensure that their expenses are covered. The other thing is to have a place of our own to rehearse. We don't have our own place."
Burnett shared her own advice to OU students who are pursuing an arts education similar to hers.
"At the School of Music, Theatre and Dance, the faculty … have everything that you need to get you to your successful place," Burnett said. "But, you have to have a positive attitude and be open for growth. I was new to classical singing when I arrived. I had a lot to learn. Sometimes when people have accomplished a certain level of success, there can be a resistance toward the people who are trying to teach or train them. For me, being open put me in a good position. It allowed [the faculty] to pour so much into me."
Go to detroityouthchoir.org and DYCOfficial on Instagram and Twitter to learn about future events.