Professor, program director strives to make positive impact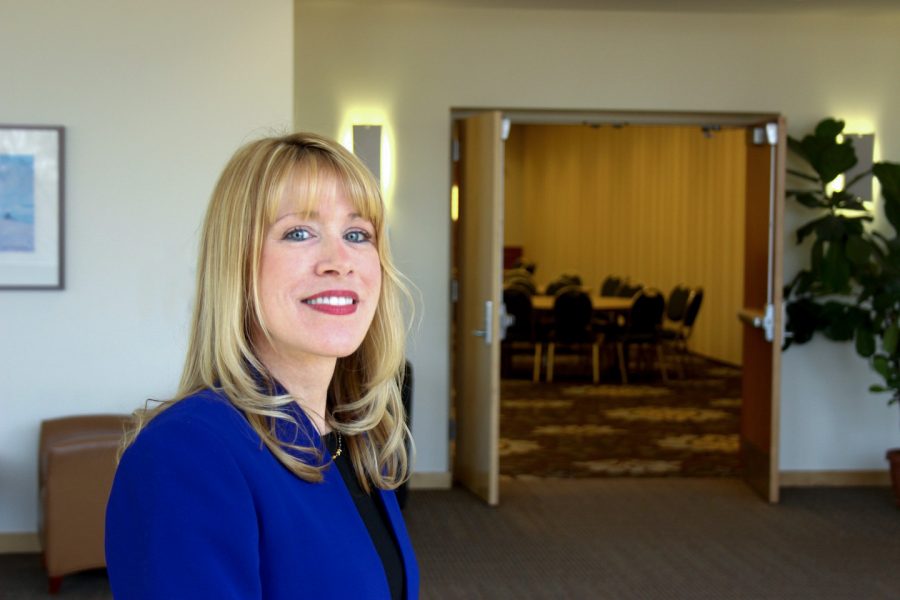 In a hallway on the third floor of Wilson Hall, a tiny, cramped office can be found. It's a seemingly ordinary room with a computer on a desk, a few chairs, a cabinet — but then on the left is almost an entire wall filled with books, shelves of texts organized chaotically in stacks.
There are books about various subjects — from gender and masculinity and femininity, to race, to sexuality, to sociology, to public speaking and communication. According to the office's occupant, Dr. Valerie Palmer-Mehta, the books represent her personal interests.
Palmer-Mehta has been a communication professor at Oakland University — where she earned her undergraduate degree — for the past 15 years. She has been awarded the OU Honors College Inspiration Award and the Elizabeth Youngjohn Teaching Award for her zeal in teaching.
"She performs, but it's genuine," said Holly Gilbert, adjunct professor of journalism. "It's her passion that turns into a [interactive] performance in the classroom that is poetic and moving and inspiring."
Gilbert, who is also an adviser, has an office next door to Palmer-Mehta's classroom, and is often drawn to sneak a peek at the inspiring lectures.
"Students love Val," Gilbert said. "This is very rare you hear a student talking about how much they respect and want to have a person as a professor, but at the same time say, 'They are so hard.'"
Dedicating her career to communication has allowed Palmer-Mehta to combine all of her different interests — gender, sexuality, sociology and race — into one area. The professor has taught a variety of undergraduate and graduate courses in communication and has also been published in various journals and edited collections.
For the past year, Palmer-Mehta had the opportunity to fill in as the interim director of the Women and Gender Studies program, for which she was already an affiliated faculty member. She also occupied the interim director position from 2014-2015.
"Naturally, I have a passion for the area," Palmer-Mehta said. "Anything I can do to support I would definitely do."
Outside of her departmental commitments, Palmer-Mehta strives to assist students — specifically young women — to reach their leadership goals.
"I find my most gratifying work is, honestly, helping others achieve and creating opportunities for others, more than any article I've written," she said.
Palmer-Mehta currently resides as the faculty adviser of the American Association of University Women (AAUW) at OU. Her work with the AAUW and her passion for helping women rise up in education merited her the Phyllis Law Googasian Award in 2016.
Her accomplishments are far and wide, for which she said she is very appreciative, but Palmer-Mehta said she still wants to find ways to contribute. 
"I feel like I'm in process," Palmer-Mehta said. "I've accomplished some things, but I'm not finished. I'm still trying to make a contribution and make an impact on my little corner of the world."
In August, Palmer-Mehta will end her yearlong position as the interim director of Women and Gender Studies. She will return to her roots as the Communication program director, but said she truly values the chance for the role she held.
 "I have enjoyed the opportunity to have these positions because I see leadership as servanthood," Palmer-Mehta said. "You're really helping other people."