Exclusive: Wyatt Russell talks new J.J. Abrams film 'Overlord'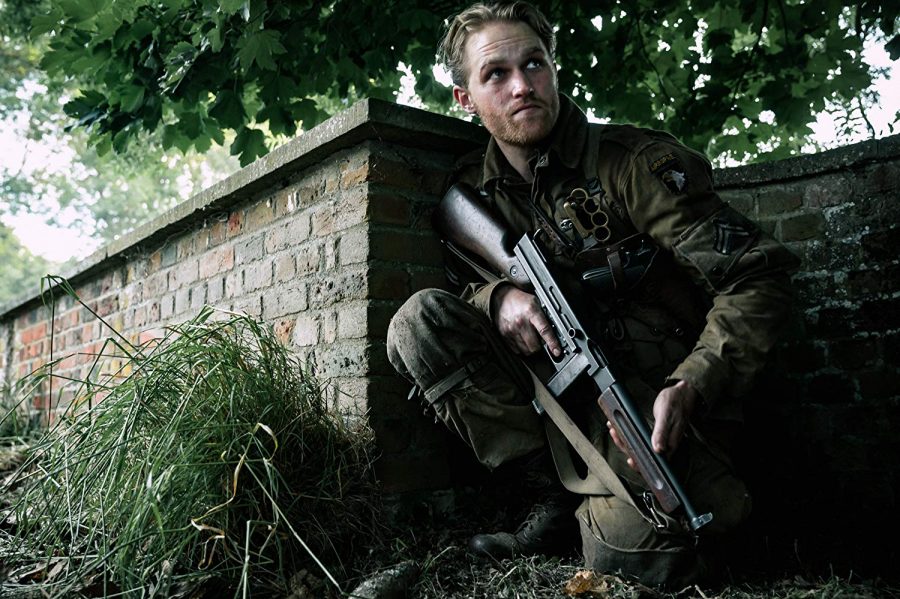 Few people can say they've played professional hockey, shared a bromance with Channing Tatum and fought Nazi zombies.
But then there's Wyatt Russell.
The 32-year-old actor, whose new movie "Overlord" was released last week, is the son of Hollywood royalty Kurt Russell and Goldie Hawn. Initially a professional hockey player until a career-ending hip injury in 2010, Wyatt rose to prominence for his role as Zook opposite Tatum in 2014's "22 Jump Street." Now he's conquering new territory with "Overlord," which follows a group of American paratroopers facing off against Nazi zombies in World War II France.
"As an actor, you wanna do the best stuff you can do," he said. "You try and do different roles. You try and differentiate yourself from what you had done previously by doing something different."
In the film, Russell plays Corporal Ford, the hardened leader of the paratroopers with a firm commitment to finishing his mission, no matter the cost. He said the role was "physically demanding," but still a whole lot of fun.
"There's a lot to dislike about Ford and there's a lot to like about him," he said. "It was great to be able to play a person who had to have his mind changed. I always think that's interesting, the role when someone's very set in the way they do things because they've had success doing it that way."
Russell was drawn to "Overlord" by its fresh take on historical events, which he likened to Quentin Tarantino's 2009 film "Inglourious Basterds" for its use of "the world's best bad guys" — the Nazis — as its antagonists. In spite of that, he insists the film is not aiming to make a statement on the current political climate.
"If you wanna go escape your everyday stuff, this is the movie for you," Russell said. "It's a popcorn movie, it's not meant to comment on anything."
While "Overlord" may not be focused on modern American politics, one thing it did consciously emphasize was the use of practical effects over CGI. According to Russell, the film created a "palpable sense of reality" by limiting the use of CGI to a select few scenes.
This should come as no surprise, though. "Overlord" is produced by J.J. Abrams, who famously advocated for the use of practical effects over CGI on 2015's "Star Wars: The Force Awakens." For Russell, working with Abrams was a dream come true.
"J.J. Abrams does 'Star Wars' and 'Star Trek,' so when that guy's name is on something, you're sort of playing in a different league," he said. "Knowing as you're acting that you're being guided by the hand of J.J. Abrams, that gives you a lot of confidence."
Following the release of "Overlord," Russell said he'll "do whatever" regarding future projects. He currently stars on AMC's "Lodge 49," which has just been renewed for a second season and will appear alongside Amy Adams and Gary Oldman in "The Woman in the Window" next year. For right now, though, he's just enjoying the success of "Overlord."
"Going to the movies is seemingly something that's done a little less or, I guess, differently these days," he said. "I just hope that people get to go with their friends and see something that people put a lot of care into. There was a lot of care and a lot of work that went into the movie so that it could be experienced in a movie theater, and when you get out, you go, 'Ah, man, I'm glad I saw that movie in a movie theater and didn't wait to have it come out on Netflix.' I think that's what I hope people come away from the movie thinking."