Bella Cvetanovski — student by day, Detroit Pistons Dancer by night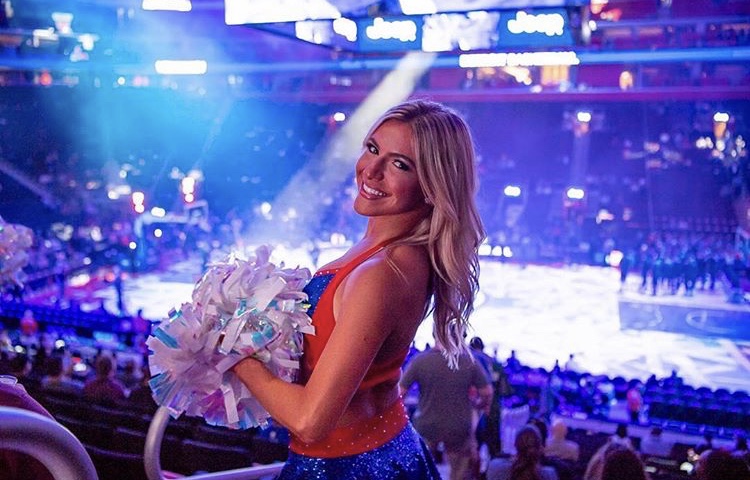 You never know who you might be walking by on campus.
Take Bella Cvetanovski, for example. She may seem like an average student studying public relations and advertising at Oakland University, but off-campus, her presence is much more than that.
Cvetanovski is a Detroit Pistons Dancer. Her passion for dance started when she was very young and has taken her on quite the ride. She started off as a studio dancer, then moved on to the Eisenhower Varsity Dance Team, then the University of Cincinnati Dance Team and now to the Detroit Pistons Dance Team.
"My team and I won two national titles at Eisenhower," Cvetanovski said. "One my sophomore year in jazz — which was the first time Eisenhower ever won a national title — and one my junior year in hip-hop."
Upon graduating in 2016, Cvetanovski took her dance abilities to the collegiate level for the University of Cincinnati Dance Team. Her team took home a national title in 2017, Cvetanovski's third overall.
"Looking back at the year I spent at UC, I wouldn't trade that experience for the world," Cvetanovski said.
Her passion for dance eventually brought her back to Michigan when she decided to take her talents to a new realm of dance — the Detroit Pistons Dance Team.
"I fell in love with the style of dance and the environment, so I knew that this is what I wanted to do," Cvetanovski said. "The audition process for DPD requires much more than a standard audition process. There are two full days of tryouts and cuts are constantly being made. We learn a variety of routines ranging from jazz to hip-hop and also go through an interview."
Cvetanovski said she never imagined herself being in the place she is today, which she accredits to the friendships she has made, coaches who taught her and fans that encourage her.
"My dance career keeps on surprising me," she said. "Every game is my favorite game. If I had to pick one, it would be the game against the Golden State Warriors. My coach danced for Golden State, so being able to play against her team from back home, which also happens to be the best team in the NBA, was extremely exciting. The arena was filled from top to bottom and the energy was a feeling like no other."
Keeping up with staying fit and healthy while in the eye of thousands of spectators can be hard, but she has made nutrition a huge part of her daily lifestyle.
"I am always creating new recipes, which eventually led me to creating my own Instagram account @bitesbybella where I post to not only motivate others, but myself as well," Cvetanovski said. "I am now more comfortable in knowing what my body needs, I know what will keep me full and camera ready at the same time. That being said, I am also a normal girl who loves to relax and eat desserts as well."
Dance has greatly impacted Cvetanovski's life in countless ways, leading her to opportunities she could never have imagined.
"I am not 100 percent sure of where my dance career will lead to next, or where exactly I hope to land my career," Cvetanovski said. "I am going to go with the flow and whatever is meant to be will be."
But even after all the success she has achieved, Cvetanovski stays humble by looking back at where she started.
"To see how far I have come in just one year of being on the team makes it all worth it," Cvetanovski said. "I've learned to never give up, and there is always room for improvement."